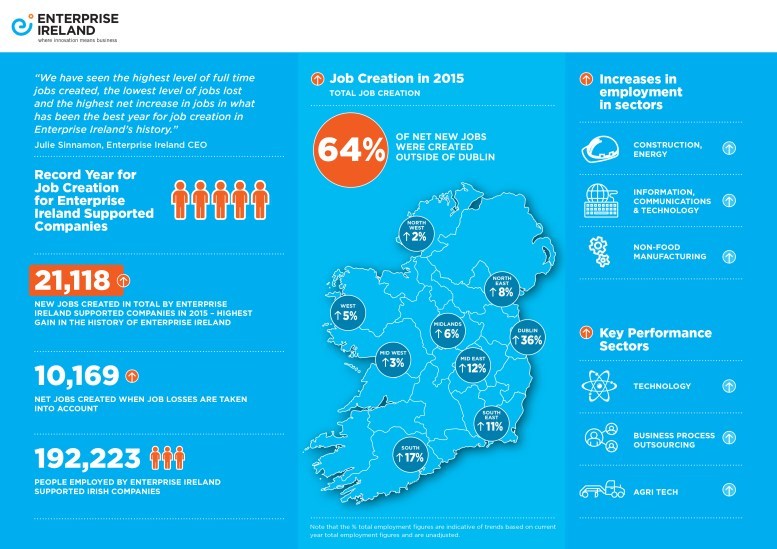 Enterprise Ireland, the Government agency responsible for developing Irish business globally, has reported the creation of 21,118 new jobs by client companies in 2015.
This translates into a net increase of 10,169 jobs for 2015 (taking account of job losses) in Enterprise Ireland supported businesses, and brings total employment in these companies to 192,223 – a record high for the agency. Almost two thirds of the new jobs created were outside Dublin and all of the regions recorded increases in full-time employment over the period.
Enterprise Ireland says it attributes this strong performance by Irish businesses to an improving entrepreneurial climate for start-ups, dynamic Irish companies innovating and scaling up in key sectors such as food, fintech and business process outsourcing and improving international economic conditions.
The Minister for Jobs, Enterprise and Innovation, Richard Bruton TD, said that the government had put additional Enterprise Ireland staff in overseas markets and doubled the number of trade missions as part of the government's Action Plan for Jobs.
"This did not happen by accident – it happened as the result of a carefully designed and implemented plan. I wish to pay tribute to CEO Julie Sinnamon and all the team at Enterprise Ireland on this excellent achievement. If we continue to implement our plan we can have confidence that we can keep the recovery going in every part of the country in the coming years".
Enterprise Ireland Chief Executive Julie Sinnamon said: "Irish businesses are making a huge contribution to the recovery in the economy and 2015 was a great year for job creation in the companies Enterprise Ireland supports. Our focus on helping businesses to start, innovate and scale is paying dividends with the highest level of full time jobs created and the lowest level of jobs lost in businesses that are competing globally from Ireland".
"Start-up companies account for over two thirds of all new jobs created in Ireland and over 200 early stage companies have been approved for investment by Enterprise Ireland. We have also supported a further 500 start-up companies through the Local Enterprise Offices (LEOs).

"I am also delighted that 61 of the Start-up companies that Enterprise Ireland invested in were led by female entrepreneurs and there were 15 investments in companies established in Ireland by overseas entrepreneurs last year through our new fund, which gives an indication of our competitiveness as an attractive investment location.

"Innovation is a key success factor for many Enterprise Ireland clients. In 2015 the agency invested in a record 875 collaborative research and development projects between companies and higher education. Furthermore, we have made strategic investments in new technology such as the new €35m Dairy Processing Technology Centre to position Ireland as a world leader in dairy innovation and the partners involved produce €2.5bn in exports annually".
"In 2016, the global outlook remains positive but winning market for our exports is always challenging. In Enterprise Ireland we will continue to focus on supporting Irish business to start, innovate and scale to win new business, compete internationally and to create new jobs," concluded Ms Sinnamon.