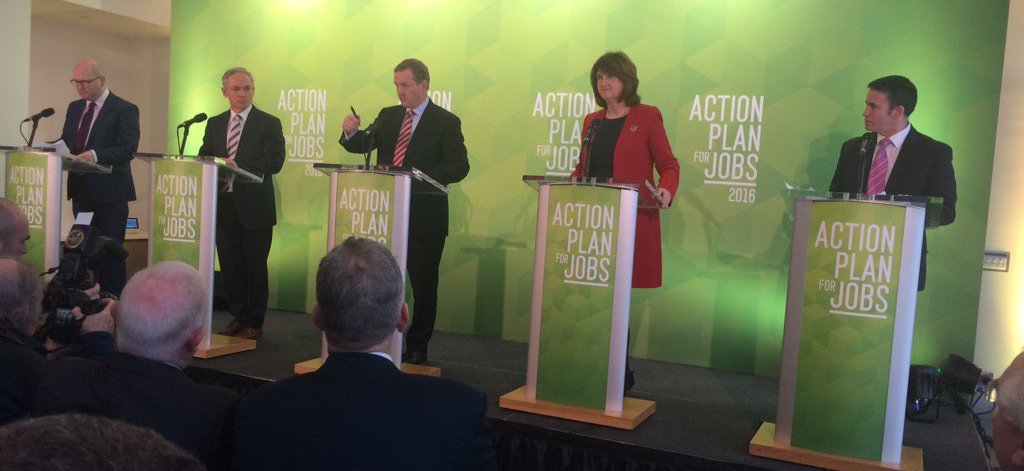 The Government yesterday launched Action Plan for Jobs 2016, the fifth in the annual series of jobs plans, led by Minister for Jobs Richard Bruton, and the final plan of the current Dáil.
This years plan marks the first in a new phase of the process after the original target of 100,000 extra jobs by 2016 was hit last year. According to the independent Central Statistics Office, more than 135,000 additional people are at work today compared to when the first Action Plan for Jobs was launched.
The new phase targets 200,000 net additional jobs by 2020, which would bring the total numbers of people at work to 2.18million.
The 2016 plan outlines 304 actions which will be implemented this year by 16 Departments and over 60 Agencies, in a cross-Government approach.
Today's launch took place at the Kerry Group Global Technology and Innovation Centre in Naas, Co. Kildare.
Among the headline actions included in this year's plan are:
All Government transactions with business will be available online by 2017, a move which will affect 370 Government transactions with 185,000 businesses across the country
double the intellectual property outputs from business
€530million in new funding for Regional Jobs Plans
A step-up in skills supply, including a single Government web portal to highlight job opportunities to returning emigrants and a new National Skills Strategy
13,000 new jobs in Enterprise Ireland companies and 16,000 new jobs in IDA companies in 2016
A series of measures to double the jobs impact from start-ups, including support for 185 high-potential and early-stage start-ups and 4000 jobs from the Local Enterprise Offices in 2016
Mentoring and management development programmes for 1300 Irish companies in 2016
€150million in new funding for R&D from Horizon 2020, and €600million in R&D investment annually from multinational companies
A National Clustering Initiative
Agri-food – establish a Centre for Consumer Insights and a Meat Technology Centre to support food innovation
Financial services – IDA will develop proposals to win more "front office" financial services activities
Measures to target jobs from new sectors including the bio-economy and the audio-visual sector