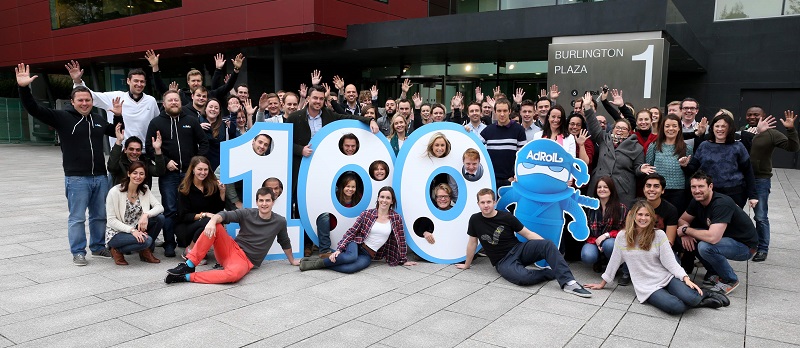 AdRoll, the world's most widely adopted retargeting platform, announced it has hired its 100th employee in Ireland ahead of schedule and is celebrating its first year in Dublin.
AdRoll established its EMEA (Europe, Middle East and Africa) headquarters in Dublin last October with plans to create 100 jobs by the end of 2014, and has reached this target already, with plans to exceed it by year end. In June this year AdRoll doubled its office space to over 20,000 square-feet at Burlington Plaza and increased hiring plans to 220 by the end of 2015.
Expansion in Europe has yielded rewards, with growth of over 300%, far exceeding expectations since the region's launch last year. AdRoll currently has over 2200 customers in more than 64 countries across EMEA.
AdRoll's Dublin 100-strong office hosts 13 different nationalities with backgrounds varying from a DJ to a physiotherapist to an Irish dancer, and supports customers in 17 languages. The company continues to hire across all functions including sales, account management, business development, finance and engineering to support customers in a number of languages throughout the EMEA region.
AdRoll, which closed a funding round of $70 million in April 2014, has also announced the hire of Patrick Mee as Vice President of Engineering across the company to help build the engineering team, platform and data infrastructure. Mee, a Dublin native, will be responsible for managing the company's rapidly growing engineering staff which has quintupled in size over the last year. He has held leadership roles in Silicon Valley for 20 years and joins AdRoll from Inadco, where he oversaw the ad tech company's engineering team. Prior to Inadco, started his career at Apple and most recently served as VP of Engineering of Ning.
"AdRoll is in the middle of the most exciting times in our company's history and we're thrilled to hit this milestone in our Dublin office ahead of schedule," said Aaron Bell, AdRoll CEO. "We are excited about the talent we have found in Ireland and delighted to bring a proven leader like Patrick into our management team. Patrick will be an important contributor in driving AdRoll's mission of bringing powerful advertising technology to brands and agencies of all sizes."
"Less than a year ago we hired our first employee in Dublin and it has been a fantastic journey to see AdRoll grow and respond to the massive demand we've seen from the European market. We are well on our way to fulfilling our ambitions to have a large, high performing multilingual team in Ireland to service our clients across the region and I am excited to see how far we can go," said Marius Smyth, AdRoll's Managing Director of EMEA.
"Some of the most complex challenges facing engineers today are in the ad tech space and I am excited to join AdRoll at such a dynamic time for the company. I look forward to spending time in our Dublin office supporting this development," said Patrick Mee, AdRoll's new Vice President of Engineering.
Related articles