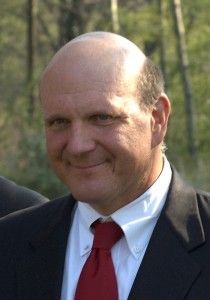 Steve Ballmer is stepping down as Microsoft CEO, after 10 years which have seen the stock price stagnate at less than €40, following a peak of €59.56 in 2000.  Of course, it's not fair to measure him against the "irrational exuberance" of the dot-com days.  But Bloomberg reports that a look at some other metrics is necessary, and they provide a more positive view of Steve Ballmer.
Under Steve Ballmer, Microsoft grew revenue massively (over 500% in enterprise software), launched Xbox and grew it to success and "instituted dividends that would have yielded $8.23 for investors who have held the stock the whole time the CEO was in charge".
Bloomberg's Dina Bass argues that Ballmer has in many ways been a successful CEO in the PC era.  But PCs are dead – and Microsoft now finds itself with a still-dominant share of a rapidly disappearing market.
Related articles