"Black Friday" marks the start of the holiday gift-buying season in the United States every year.  It's the day after Thanksgiving, so many people (except retailers!) have a day off to go shopping.  An equivalent in Ireland might traditionally have been the 8th of December, the Feast of the Immacculate Conception, and a day off for many Catholic schools.
But, thanks to the Internet, we can't help eavesdropping on our American friends, and many businesses in Ireland and elsewhere are jumping on the Black Friday bandwagon.  It makes sense.  It's pay day for many people today, and in good time for ordering online.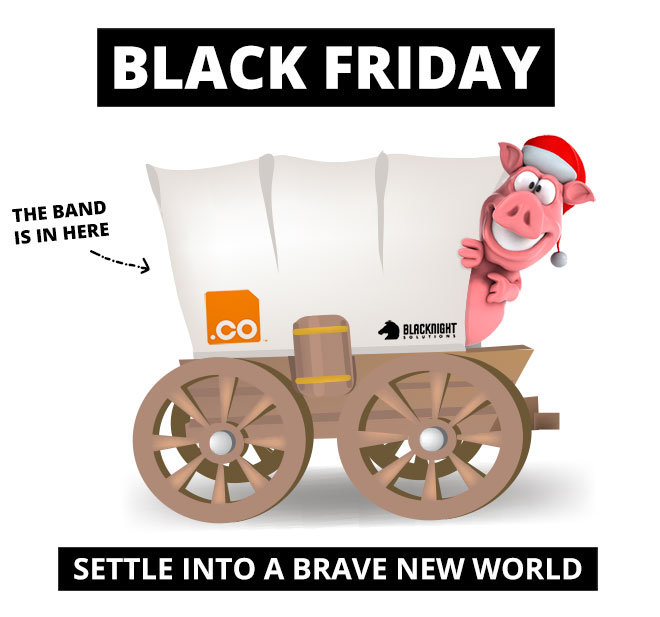 Blacknight are aboard the bandwagon, of course!  You can get a free .co domain with every Minimus 12-month hosting plan.
John Collins reports via Twitter that Great Outdoors are offering Black Friday deals online and in-store, with 20% Off on 30 brands.
Apple's Irish store  is offering discounts and free shipping on a range of products purchased today.  There are lots of deals at Amazon as well, with a Black Friday Deals Week continuing until December 1st.
It's nice to buy gifts, and for many people this is a chance to get good value for their limited funds.  It's also true that Black Friday illustrates some of the worst aspects of consumerism, especially in the stores, as people have literally been trampled to death by stampedes of bargain hunters.  There are reports this morning that the downside of Black Friday has also come to Ireland, with a woman injured in a rush for discounted TVs at an ASDA store in Belfast.
Economist Umair Haque, who shares a pessimistic view of society on his twitter stream, sees the apocalypse:
If you want to see what the end of human civilization probably looks like, click #BlackFriday.

— umair haque (@umairh) November 29, 2013
But for most people, it's probably no more than an opportunity to try and get some good value for Santa, and to hopefully give the economy a bit of a boost.  Anecdotal reports suggest that many town centres are already busy with seasonal shoppers, so hopefully it will be a good Christmas for retailers.  If you ask me, however, I'd stay out of the shops – just for today and do my shopping online.  It's safer that way.
Finally, if you're sick of hearing about Black Friday, NASA has an alternative:
For retail, it's #BlackFriday. For us, it's #BlackHoleFriday. Today, we'll post info & images all about black holes. pic.twitter.com/jsk9vUjcr4

— NASA (@NASA) November 29, 2013
P.S. What's bigger than Black Friday in Ireland?  The Late Late Toy Show of course!
Related articles