Everybody is talking about Irish TV today, as the Mayo company announced its plans to launch a 24 hour TV channel on 1 May, aimed at the Irish diaspora, and promising to create 150 jobs in the process.
But when I tuned in to Pat Kenny on Newstalk to hear founder Pierce O'Reilly tell his story, I didn't hear the usual slick spin of job-creation PR. Here instead was the raw emotion of a man who staked his family's future on a brave enterprise.

It took three attempts before Pierce could overcome the emotion which choked his voice, as he described the moment when he met John Griffin, the investor who is backing the new media venture.  O'Reilly had travelled to London with just €23 in his pocket to meet potential investors, in a bid to save the startup he co-founded with his wife Máiréad Ní Mhaoilchiaráin.  He described the encounter in an interview published in yesterday's Sunday Business Post:
"He took out his cheque book and wrote a cheque for £50,000 there and then, saying 'You need help and you need it now.' Afterwards I rang Máiréad and cried for 20 minutes. This guy had never met me before, but he took a serious chance on us. I couldn't believe it."
Anyone who's ever started a business knows the emotion Pierce describes, that release of tension and stress built up over months of worry and work.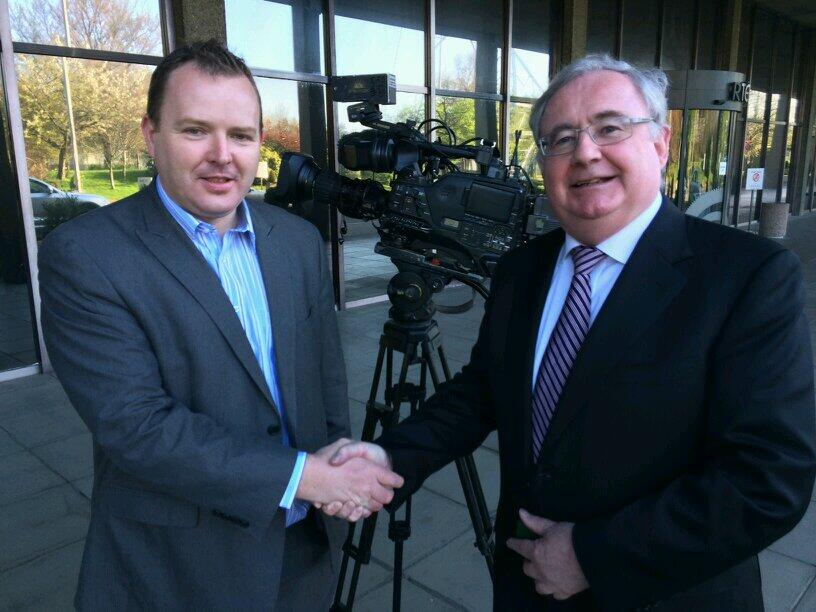 In the Sunday Business Post interview he outlined how his independent television production company saw commissions from established broadcasters dry up in the recession, leading Pierce and Máiréad to decide to build their own platform. The collapse of the independent radio and television production sector is, ironically, one of the lesser known stories of the post-boom.  But just because broadcaster budgets don't stretch as far as they used to, doesn't mean that the stories aren't there.  And neither does it mean that the audiences for those stories are not there.
It's a fact which is sometimes lost on people involved in media in Dublin. During the interview Pat Kenny suggested to Pierce that it might be more difficult to find guests to feature on his TV shows, being based in Westport rather than in the Capital. I had to laugh! Does Pat not realise how small Dublin is, and how parochial our so-called 'national media' can sometimes appear, to those of us outside the Pale?
Don't get me wrong: I love Pat, and I think his move to Newstalk is a long overdue shake-up for everyone involved. In the interview he displays an engineer's awareness of technology's role in revolutionising and democratising media. The tools of media production are easily affordable now and a team of professionals stretched from Kiltimagh to Korea can collaborate just as effectively and probably a lot more cheaply than in Montrose.
But ten years after the word 'podcast' was coined we are only beginning to see the first effects of the revolution many of us had hoped for.  Irish TV are taking a bold step into the international media market; driven by raw necessity and West of Ireland resourcefulness; enticed by the prospect of a global Irish community hungry for authenticity. It's a step which could have been taken by one of our established, licensed, regulated (and in some cases, publicly funded) broadcasters. It could have, but it never would have.
Go n-éirí libh, Irish TV!
Related articles