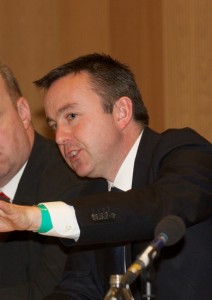 Fine Gael MEP for Dublin, Brian Hayes has called for the introduction of contactless payment on public transport services across Dublin. A similar system has recently been introduced in London allowing commuters to use their contactless debit card to pay for buses, the underground and light rail. Contactless Debit Cards are normal debit cards which are now issued by financial institutions as debit cards expire and are reissued. In Ireland they can be used to purchase products up to a value of €15 by holding your card to terminal. No pin is required.
"I was recently in London and saw the enormous benefit of their new contactless payment method using a debit card. Many people would be familiar with the Oyster card system which operates in London that is very similar to our Leap Card. With the introduction of this system the requirement for the Leap Card would become redundant.

"The system works much the same way as the Oyster Card does. When you board a bus or enter the underground you hold your contactless debit card to the reader. The relevant fare is then deducted from your bank account.
According to Mr Hayes, the main advantage of the contactless system is convenience: "commuters would not need to worry about topping up their Leap Card".
"In recent years it has become much more expensive to pay with cash on transport services across Dublin – in a campaign to get people to use a Leap Card. This system would mean that those who don't use public transport all that regularly and do not have a Leap Card can easily benefit when it comes to paying for public transport. It also allows tourists to benefit. There is also a growing trend whereby shops are imposing a surcharge on Leap Card top-ups. The contactless system will prevent this.

"The Leap Card has been a great success. In order to make public transport more attractive and convenient we need to change with the times. The Oyster Card was introduced in 2003 and the Leap Card in 2011. Let's not wait another 8 years to introduce contactless payments."
Related articles