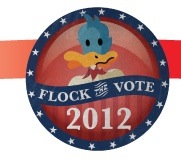 If you're a Mac or Linux user then you might have heard of "Crossover Office". Basically it's a bit of software that allows you to run Windows applications on your Mac or Linux desktop.
So, for example, using it you can play games that are only available for windows, run Internet Explorer or Microsoft Office (while there is a version for OSX it's not quite the same as the Windows one)
From 00:00 to 23:59, Oct. 31, 2012 (US Central time) visitors to the Codeweavers site will be able to download a full copy of the software for free. Not only do you get the software, but you'll also get 12 months of support for free.
Seemingly it's part of a drive to get American voters to the polling stations for the US Presidential elections, but even if you can't vote you can still avail of the software offer.
[youtube]http://youtu.be/vkKiMJFvXbc[/youtube]
Full details and download here.