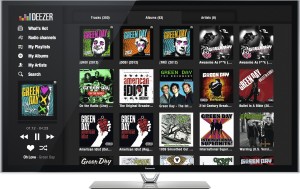 Online music service Deezer has announced that their apps will soon be available on a broader range of Smart TVs.
The Deezer app will be available on Panasonic, Philips, Loewe, TCL Thomson, Sharp and Vestel (some via NetRange).
Samsung and LG users will be able to access more features via the app's latest upgrade, which will give them access to their friends' playlists, play their favourite tracks in shuffle mode, better manage their music library and enjoy an enhanced search feature, making it even easier to discover great new music.
More details here.