I've been playing around with Deezer for the last few months. While I was initially quite sceptical of the service, as I was very happy with Spotify, I've grown to really like it over the last few months.
In common with other music streaming services, Deezer is available via the web and on mobile. Unfortunately up until a few days ago there was no native client for OSX, so you had to keep a browser window open in Deezer all the time. That was quite annoying, as I'd often have a large number of tabs open in my browser and having to have one dedicated to a single site was messy.
The new OSX desktop client is still very much "beta", but it's functional.
Once downloaded and installed you will need to login either with your Deezer account details or your Facebook login. In the case of the Facebook login it doesn't currently offer you the option to authenticate against Facebook, but instead asks you to login with your Facebook email address and password.
Once you're logged in you'll be prompted to import your iTunes library, which I skipped.
You can then access your current playlists, albums, tracks and other features as normal.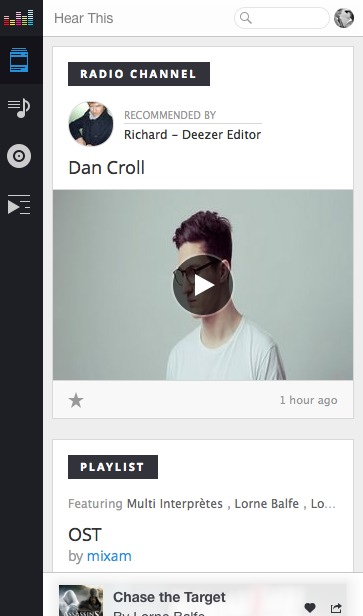 If you're a good broadband connection you can toggle on the higher quality audio as well as deciding when the Deezer app should launch ie. do you want it to launch as you boot your machine, or do you want to open it yourself.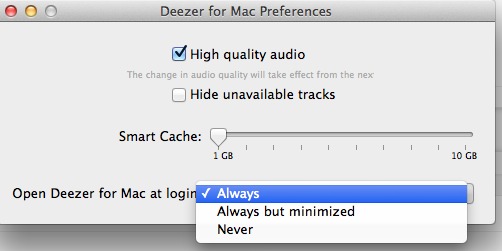 One of the features that I really like with the app is that it allows you to control your music directly from the Mac keyboard, so you can adjust volume, skip tracks etc., using the keys. It's quite clever in how it does this mapping, as you can still use iTunes and Deezer at the same time – you just need to give iTunes "focus" for the controls to map back to it. (Though why you'd even want to do that is beyond me, but I thought I'd try it!)
As it's a beta there are a few bugs. At the moment, for example, playing music from the app does not scobble it via Last.fm.
The social sharing options are also limited to Facebook only for now. There's also no way, at least that I could find, of accessing the charts feature on the desktop app.
Hopefully they'll add more features as they work on this.
For now, anyway, I'm quite happy to use it
If you want to participate in the beta you can download the app here as well as read up on the features.