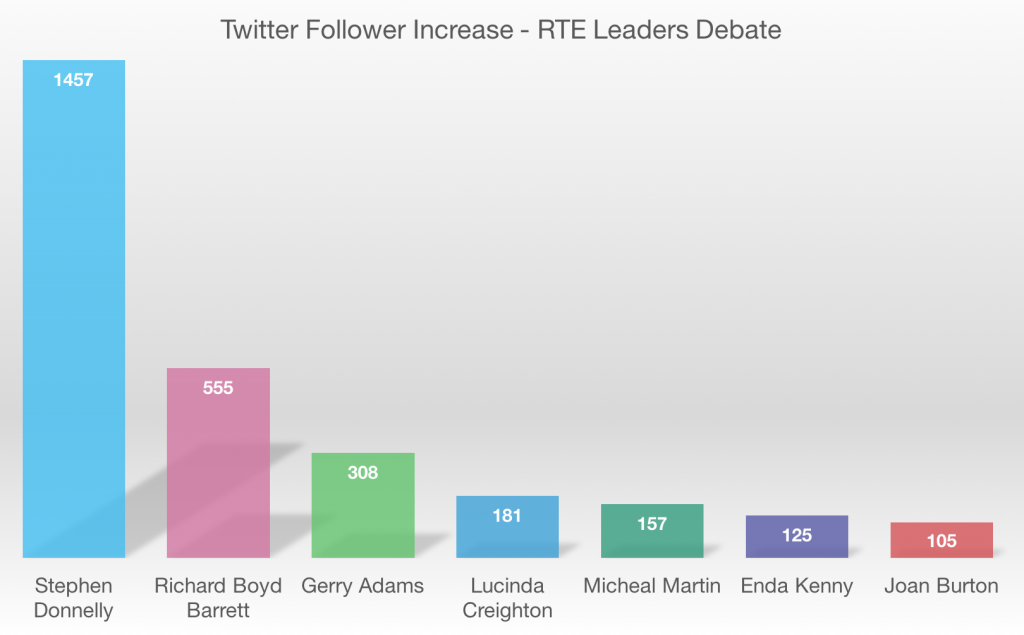 Researchers from the Insight Centre for Data Analytics have been crunching the Twitter numbers as part of their Insight4Elections data analysis project and they found that Stephen Donnelly, leader of the Social Democrats gained a remarkable 1,457 Twitter followers after last night's leaders' debate on RTE, about two thirds more than his closest rival Richard Boyd Barrett of People Before Profit who gained 555.
Gerry Adams gathered 308 while the other leaders trailed far behind: Lucinda Creighton (+181 followers), Micheál Martin (+157 followers), Enda Kenny (+125 followers) and Joan Burton (+105 followers).
Donnelly's relative popularity also translated to his party the Social Democrats who gained over 400 followers in the same period, double that of most of its rival parties.
The deputy leaders' debate on TV3 inspired less activity overall, but Mary Lou McDonald gained three times as many followers as her closest rival, Labour Deputy Leader Alan Kelly.
Insight4Elections is a publicly available web tool where users can crunch the numbers for themselves.
Who got the approval of the Twitterati last night?
Stephen Donnelly – +1457 followers
Richard Boyd Barrett: +555 followers
Gerry Adams: +308 followers
Lucinda Creighton: +181 followers
Micheal Martin: +157 followers
Enda Kenny: +125 followers
Joan Burton: +105 followers
How did the deputy leaders fare?
Mary Lou McDonald: +104 followers
Alan Kelly: +31 followers
Barry Cowen: +10 followers
James Reilly: +8 followers
Which parties have people been following in the past 24 hours?
Social Democrats: +424 followers
Sinn Fein: +165 followers
Fianna Fail: +129 followers
Green Party: +126 followers
Renua: +114 followers
Fine Gael: +113 followers
Labour: +69 followers
People Before Profit: +60 followers
The Insight Centre for Data Analytics is an SFI funded data science research centre. The biggest centre of its kind in Ireland and one of the largest in Europe, Insight has more than 350 researchers who are based in four sites – DCU, NUI Galway, UCC and UCD.
Also, check out this visualisation of the geographical spread of tweets which used the #LeadersDebate hashtag: