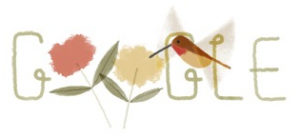 It's Earth Day, and the world's giant technology corporations are aboard the bandwagon and promoting their green credentials.  We've already featured Apple's video, and Google are not to be outdone, with a delightful Google Doodle featuring exotic species: the Rufous Hummingbird, the Japanese Macaque. the Veiled Chameleon, the Puffer Fish and the Dung Beetle.
From its beginnings the USA in 1970, Earth Day is now a global event aimed at celebrating the environment and promoting environmentalism. This year, the Earth Day Network is promoting a Green Cities campaign.
In addition to the Google Doodle, Google+ is also inviting photography submissions tagged #MyBeautifulEarth. And they're promoting Google Glass as an innovation which can help environmentalists in the field. That one might be a little hard to swallow, in fairness, but at least they have donated $5m to the World Wildlife Fund.  And they are offering to aid other non-profits that can come up with a way to use Glass in their work:
If you work at a nonprofit and have an idea for how to make more of a difference with Glass, share your ideas atg.co/givingthroughglass by 11:59 PDT on May 20, 2014. Five U.S.-based nonprofits will get a Glass device, a trip to a Google office for training, a $25,000 grant, and help from Google developers to make your Glass project a reality.
Related articles