A few days ago Flipboard released a major update. Now any Flipboard user can create their own "magazine" and populate it with content.
They've also announced a new partnership with Etsy, which allows users to explore products and even buy them directly from within the app.
Personally I'm addicted to Flipboard and use it every single day to read the news that interests me. I also use it for researching content for our weekly podcasts. Being able to find interesting content and share it easily with multiple social networks or saving it to read later via Instapaper is incredibly useful. The new custom magazines option, however, could give the app a whole new twist.
Here's the Flipboard founder, Mike McCue,  talking about the new version of the app:
[youtube]http://youtu.be/I9dv5QVs2_c[/youtube]
As a bit of an experiment I've setup a couple of magazines in Flipboard, including one for this site which I'll be adding content to whenever I get a chance.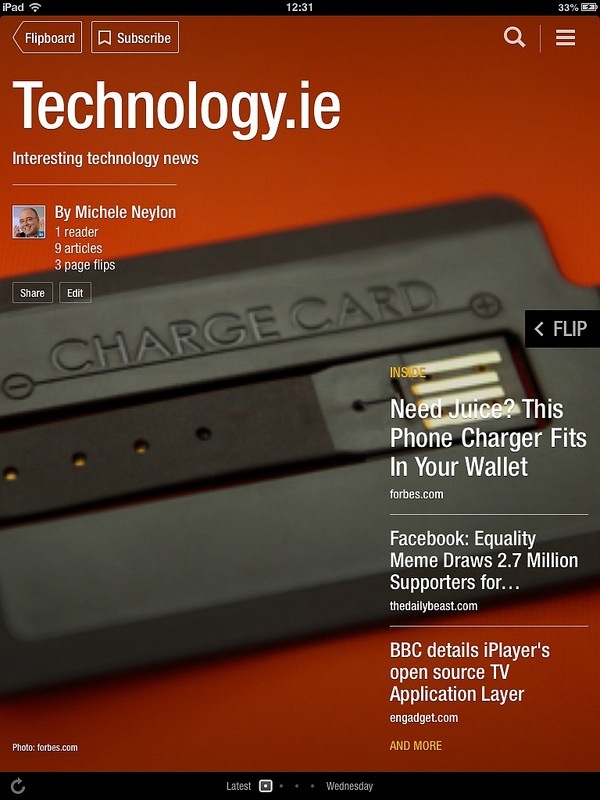 The company's release explains how to take advantage of the new features:
A brand new edition of Flipboard which turns the social magazine into a place for self-expression has launched today. Available on iPad and iPhone, this second generation of the product takes the experience full circle, letting readers not only enjoy great content from around the world, but also collect things they find on Flipboard to create their own magazines around topics, events or personal interests.

Now it's easy for people to collect, save and share stories, videos and photos on Flipboard. Readers can fill their magazines with content that expresses a point of view, reflects personal tastes or shares ideas they find inspiring. For publishers this is a new way to share archival content, publish great collections or package together stories in a totally new way on Flipboard.

With today's new edition anyone can collect the stories, videos and images they find into their own magazines.  Anything that inspires readers, from cooking to current events, can be the topic of a new magazine. Because magazines are public, they can grow an audience and others can like items, comment on posts, or even subscribe to other people's magazines. When people interact a magazine, the curator learns about it through new Flipboard Notifications.

To get started a reader taps the + button on any Flipboard item, selects "Create Magazine" then gives the magazine a title, adds a description and selects a category. They can keep adding items to the magazine to tell a story, share a perspective or inspire others. For each item that's flipped into a magazine, attribution back to the source is preserved, and if the content is from a social network interactions such as commenting, retweeting or liking are reflected back to the originating social network.

There are basic tools to manage and share a magazine. To change the cover of a magazine, a simple tap and hold on any item in the magazine lets the user select "promote to cover." To delete a magazine or make it private, there is an "edit" button on the cover of the magazine. Also on the cover is a "share" button so curators and readers can easily share magazines via email, Facebook or Twitter.

Flipboard also launched Content Search which lets readers find anything being shared on Flipboard, with search results laid out in Flipboard's familiar format and easy to filp through, essentially creating a whole new magazine just on that search term.

To get inspired or discover new magazines, readers can use Flipboard's  new Content Search to find great content by topic, person or #hashtag. By selecting Flipboard's results readers get an instant magazine of everything being shared on Flipboard. For example, a search for Cycling will instantly display pages of stories, videos and images being shared on cycling. If a reader wants to browse for more, they can select from a wide range of results coming from social networks, RSS or magazines.

Magazines by people and publishers will be featured regularly in the Content Guide under 'New & Noteworthy' and 'By Our Readers'. In the Content Guide readers can see some of the beautiful new magazines already being created, everything from Vanity Fair's "Royalty Watch" to Trey Ratcliff's "Adventures in New Zealand."