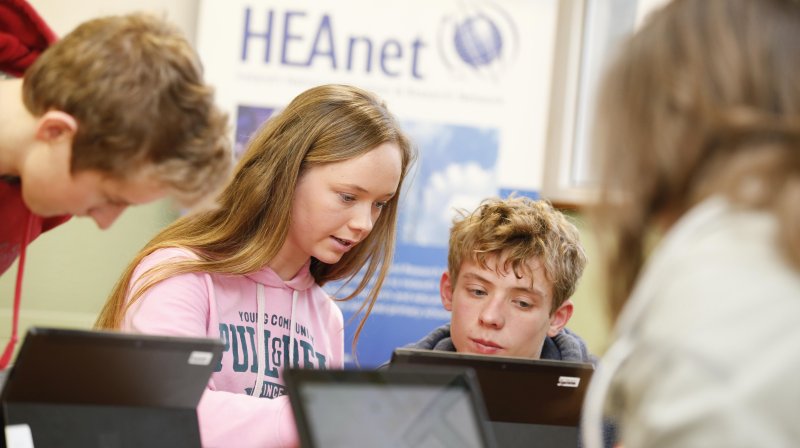 The Minister for Education and Skills, Jan O'Sullivan TD, and the Minister for Communications Alex White TD, today announced that the roll-out of high-speed (100Mbps) broadband to all post-primary schools has been completed, after the final 269 schools were connected in 2014. This brings to a close the third and final stage of this nationwide programme.
After a pilot project in 78 schools across the country showed that high-speed broadband connection improved teaching and learning, all 202 post-primary schools in 14 western and midlands counties were connected in 2012. The following year, 236 schools in Dublin, Meath and Kildare were connected.
The project has been realised through a collaboration between the Department of Communications, Energy and Natural Resources (DCENR) and the Department of Education and Skills (DES). It was installed, and is being maintained, by HEAnet.
Speaking at Mount Temple Comprehensive School, Dublin 5, Minister O'Sullivan said:
"ICT has a key role to play in transforming teaching and learning, and the installation of high speed broadband in our second-level schools facilitates this.

"The new Digital Strategy for Schools, which I will publish in the near future, will set out how we will work to fully realise the potential of ICT within schools, and will set out a comprehensive list of targets to be delivered."
Minister White said:
"The availability of high-speed broadband in schools gives students and teachers access to the full range of educational tools that the internet offers. We've now met our commitment to deliver high-speed broadband to every second level school in Ireland. The next step is to consider how best we can address high-speed broadband provision in our primary schools.

"The National Broadband Plan will ensure that every home, school and business in Ireland has access to high-speed broadband. The Government will intervene to provide the infrastructure in areas where the market will not, and there will be a particular emphasis on connecting schools in the intervention area."
The Department of Communications  funded the capital costs of the project, estimated to be approximately €11m, as well as contributing some €11m in current costs for the years 2012 to 2015. The Department of Education is funding the remaining current costs (estimated to be some €16m up to 2015) and will fund the on-going annual costs into the future.
The Project has been co-funded by the European Regional Development Fund (ERDF). ESB Telecoms provides backhaul from regional locations to Dublin.
Related articles