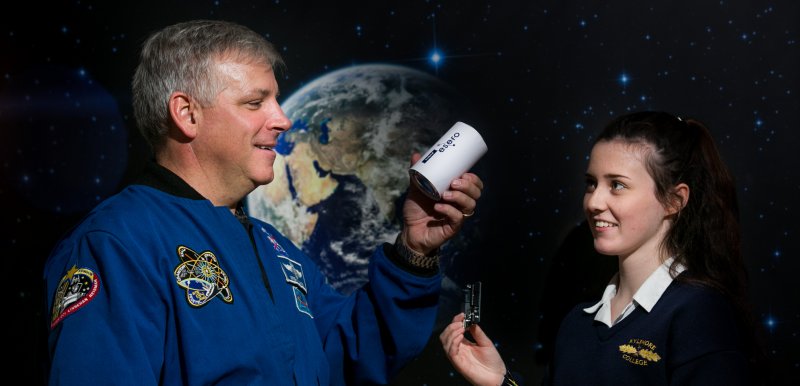 How big is a satellite? Well it doesn't need to be any bigger than a drink can, according to the organisers of a competition for Irish schools, launched today by former NASA astronaut Greg Johnson.
Colonel Johnson is President and Executive Director for the Centre for the Advancement of Science in Space (CASIS), which manages the US National Laboratory on the International Space Station. The competition offers secondary school students a unique opportunity to participate in a real space project by building a CanSat – a simulation of a satellite which fits into the volume of a soft drinks can. CanSat is a joint collaboration between ESERO Ireland (European Space Education Resource Office) and Cork Electronics Industry Association (CEIA.ie), and is co-funded by the European Space Agency (ESA) and Science Foundation Ireland Discover Programme.
All of the participating teams will launch their CanSats in regional finals across Ireland next year, with the winner of the national competition going on to compete in the European final in Portugal in June 2015.
Irish students have achieved notable success in previous CanSat competitions, run by the European Space Agency. Last year, the winners of the national CanSat competition, a team from Crescent College Comprehensive in Limerick, succeeded in securing third place at the European CanSat finals in Norway, where their CanSat was launched by rocket to an altitude of 1km. In 2012, a team of nine students from Coláiste an Phiarsaigh in Cork won second place at the competition in the Netherlands.
Col. Johnson said:
"For students, a career in the space industry can sometimes seem beyond the bounds of possibility. In Europe, there are over 30,000 employees in space manufacturing alone with a number of well-established companies based in Ireland. The CanSat competition brings space science to life for students in a meaningful, hands-on way, giving them a taste of the skills required for this thriving industry."
Dr Ruth Freeman, Director of Strategy and Communications, Science Foundation Ireland added:
"This year it was encouraging to see an increase in the number of students opting for science, technology, engineering and maths (STEM) in CAO first preferences. The CanSat competition offers secondary school students a unique opportunity to see the practical applications of STEM subjects in industry and exposure to the vast array of career opportunities open to STEM graduates. This in turn helps to ensure that the future pipeline of STEM graduates is protected."
Stephanie O'Neill, ESERO Ireland Manager, said:
"ESERO Ireland's aim, with the assistance of the European Space Agency, is to foster the skills that are required by companies operating in the space sector at an early age. Irish teams have now enjoyed two years of success at the European CanSat competition, tackling complex design, engineering and mathematical challenges as well as the softer skills of teamwork, problem solving and communicating with the support of their mentors and gaining exposure to the exciting opportunities which a career in space science can offer."
The test for participating senior cycle secondary school students, working with mentors from Dublin Institute of Technology, Galway-Mayo Institute of Technology, Cork Institute of Technology, Limerick Institute of Technology and industry partners, is to include all the major subsystems found in a satellite such as a computer, power, sensors and a communication system. All teams are supplied with CanSat kits sponsored by leading space sector companies Arralis and ENBIO. The CanSat is then launched to an altitude of a few hundred metres by a rocket and must accomplish its primary mission – to measure temperature, air pressure, transmit the data to the ground station and achieve a safe landing. Secondary missions can be devised by individual teams and in previous years included using a GPS module to track the CanSat position and measuring wind shear using a custom built anemometer. Teams work together at all stages of the process – designing the CanSat, selecting its mission, integrating the components, testing, preparing for launch, receiving the data on the ground and then analysing and presenting the data to a panel of judges.
DIT, GMIT and CIT are all mentoring a full quota of teams for the 2015 competition. However Limerick IT are still accepting teams. Those interested should contact Marie Walsh at the Department of Applied Science, LIT, Marie.Walsh@lit.ie.
Related articles