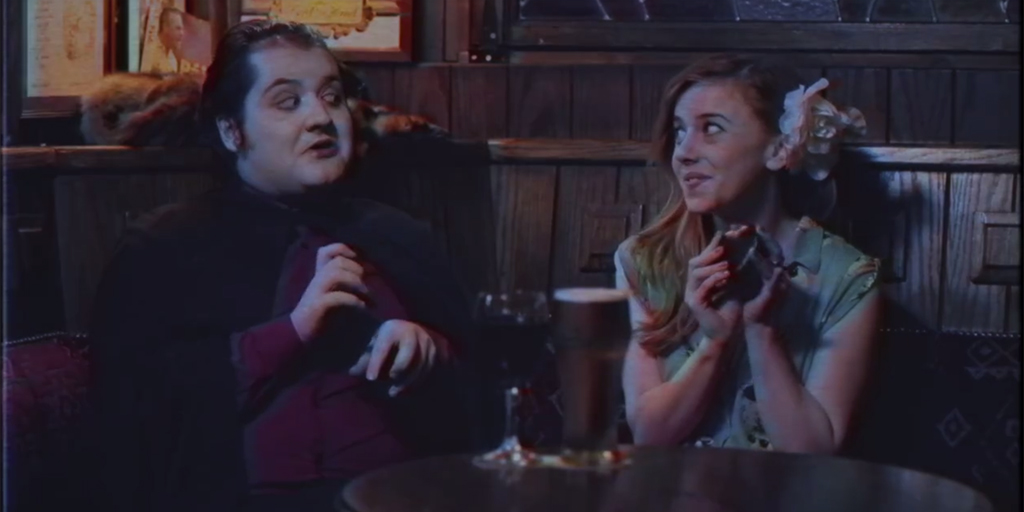 "How can an undead villain search for love in the age of tinder? What if you were socially awkward and a monster? Join one sexy vampire – OK maybe not that sexy – as he tries to find the love of his life, again."
That's the premise of Little Black Lies, a new Irish vampire web comedy which launched this weekend. A Dead Medium Production, it's written and directed by dramatist and podcasting pioneer Gareth Stack, with additional material by James Van De Waal, and stars James O'Connor as The Vampire.
Little Black Lies premiered on Friday 4 August, and two episodes have been released so far. Four more episodes will be released over the next few days, with a new episode coming out every two days. Check it out below.
From the blurb:
"This anachronistic horror comedy takes its cues from the eighties feel of recent work like 'It follows' and 'San Junipero', and springs from the lively Irish comedy scene. The writer and director preciously collaborated on absurd comic shorts like 'Lads' and 'Spaghetti D*ck', and the series co-stars rising Irish talent like Nicole O'Connor ('FACTS'), Joe O'Neill (Little Shadow Theatre Company), as well as legendary Irish actor Roger Gregg ('About Adam', 'Space Truckers')"
Gareth Stack is a writer who develops work for radio, theatre and screen. I first encountered him in 2005 when he and a group of Trinity College students produced Ireland's first video podcast – or internet TV show, Technolotics. We're talking pre-YouTube here.
Since then he has developed numerous radio documentaries, dramas and podcasts for channels like Newstalk, RTE Lyric FM as well as local and regional radio, including the award winning series 'Mad Scientists of Music', which explored the Irish experimental audio scene. He has worked as arts correspondent for programmes like Culture File & the Dave Fanning show, developed programmes for digital channels like Radiomade, and served as communications officer for the Association of Independent Radio Producers Ireland (AIRPI). Gareth currently teaches courses in Podcasting & 'Storytelling Through Sound'. Recently he has begun creating work for stage. His last play 'Mic Drop', received great reviews at the Scene & Heard festival.