The Linux Foundation has released their latest report and also produced a nice little graphic to help illustrate it.
Here are some of the headline numbers:
Nearly 10,000 developers from more than 1,000 companies have contributed to the Linux kernel since tracking began in 2005. Just since the last report, more than 1,100 developers from 225 companies have contributed to the kernel. In fact, more developers and companies are contributing to Linux than ever before with Linux kernel 3.10 seeing the most developer contributions ever.
Mobile and embedded companies are increasing their investments in Linux. Linaro, Samsung and Texas Instruments together increased their aggregate contributions from 4.4 percent during the previous version of the paper to 11 percent of all changes this year. Google's contributions are also up significantly this year.
The Top 10 organizations sponsoring Linux kernel development since the last report include Red Hat, Intel, Texas Instruments, Linaro, SUSE, IBM, Samsung, Google, Vision Engraving Systems Consultants and Wolfson Microelectronics.Afterappearing on the list for the first time in 2012, Microsoft notably dropped off the list entirely this year. A complete list of the top 30 organizations sponsoring this work is included in the paper.
The rate of Linux development is unmatched. The average number of changes accepted into the kernel per hour is 7.14, which translates to 171 changes every day and more than 1,200 per week.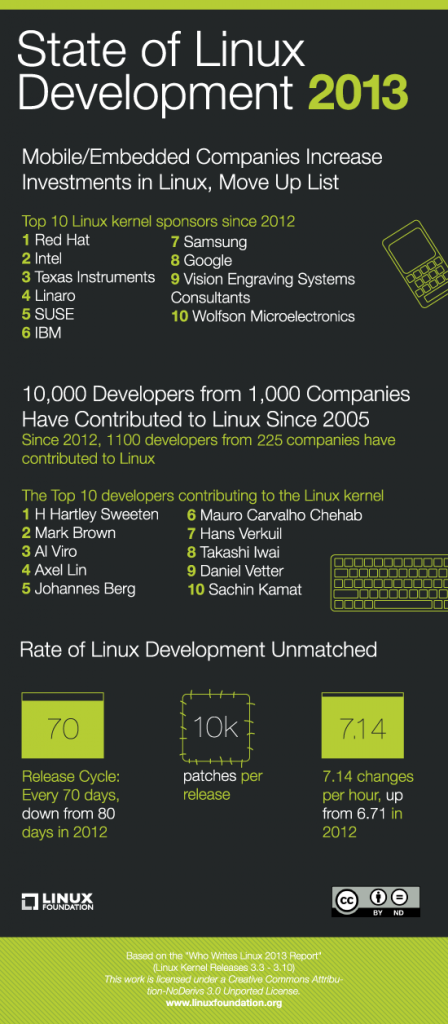 You can get the full report via their site here.