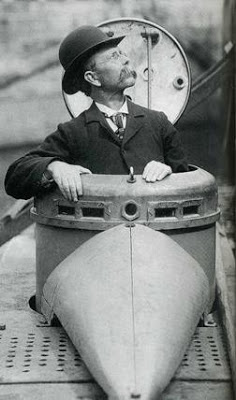 Today is the centenary of the death of John Philip Holland, inventor of the submarine. That's 100 years of table quiz questions, and the iconic image of the bowler-hatted man emerging from his vessel's turret.
Born in Liscannor, Co. Clare in 1841, Holland joined the Christian Brothers and became a teacher. However, science and technology were apparently all he was really interested in, and he tinkered with flying machines and a mechanical duck before quitting the Brothers and emigrating to the US in 1873.
The US Navy dismissed one of his early designs for a submarine as "a fantastic scheme of a civilian landsman". Luckily for Holland, he found a backer in the Fenians, the revolutionary society which hoped to overthrow British rule in Ireland. The Fenians financed Holland's early prototypes, one of which was called The Fenian Ram. When a dispute arose, the Fenians stole The Fenian Ram but never used it, as only Holland knew how to operate it.
Ultimately, Holland's research and development led to the Holland VI, launched in 1897 and commissioned by the US Navy as the USS Holland. A commission for Britain's Royal Navy soon followed: HMS Holland 1 was commissioned in 1901.
The Clare Herald reports that a commemorative day of events will be held on Sunday 31st August in his brithplace, Liscannor, Co. Clare,  as part of Heritage Week 2014. You can read more about John Philip Holland on the Commemorate Science Blog.
Related articles