We've said in the past and I suspect we'll have to say it again in the future ..
If you don't pay for a service then you are part of the product .. though treating your users badly probably isn't the best idea ..
LogMeIn sent out an email to their free tier users earlier today, January 21st 2014. The date is important: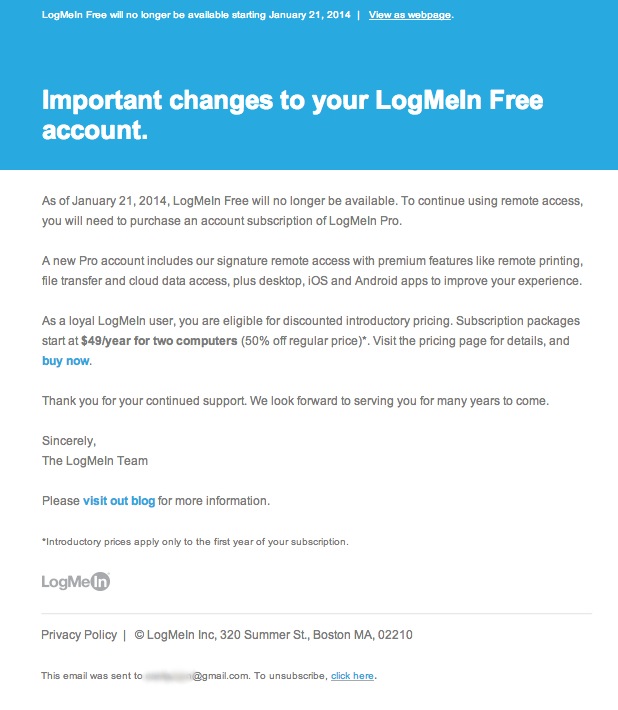 Here's the text:
Important changes to your LogMeIn Free account.

As of January 21, 2014, LogMeIn Free will no longer be available. To continue using remote access, you will need to purchase an account subscription of LogMeIn Pro.

A new Pro account includes our signature remote access with premium features like remote printing, file transfer and cloud data access, plus desktop, iOS and Android apps to improve your experience.

As a loyal LogMeIn user, you are eligible for discounted introductory pricing. Subscription packages start at $49/year for two computers (50% off regular price)*. Visit the pricing page for details, and buy now.

Thank you for your continued support. We look forward to serving you for many years to come.

Sincerely,
The LogMeIn Team
So if you have been a loyal user your access has been pulled with zero warning?
Apparently so, though they've since "clarified" that you'll get 7 days grace to switch to a paid plan or, as I suspect a lot of users will do, to an alternative.
Related articles