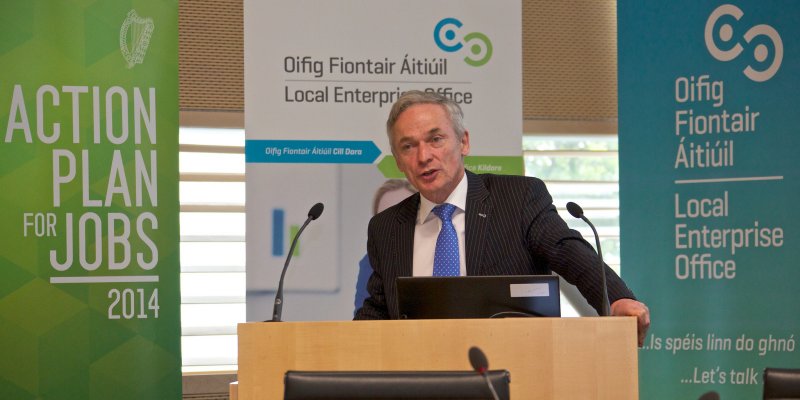 On first appearances it might seem odd that a government would send a minister on a trade and investment mission to its own country. But in the case of Ireland, it makes sense if you think about it. So many international companies have a European base in Ireland, there are real opportunities for further investment, and for indigenous companies to supply them.
The Minister for Jobs, Enterprise and Innovation, Richard Bruton TD, is on a 2-day trade and investment mission to Dublin, Cork, Limerick and Galway, jointly organised by Enterprise Ireland and IDA Ireland.
The trade and investment mission is the first of its kind in Ireland, and its objective is to maximise procurement opportunities for Irish companies with Ireland-based multinational companies. As part of the Action Plan for Jobs, Enterprise Ireland and IDA Ireland are working together to deliver more sales for Irish companies out of the global supply chains of multinationals based in Ireland.
Over the course of the two days, more than 300 one-to-one meetings will take place between 150 indigenous Irish companies and 75 multinational companies, giving Irish companies the opportunity to engage directly with procurement teams from multinational companies across a wide range of sectors. Supplier Development programmes and workshops will also take place, while opportunities in Public Procurement will also be highlighted through the Office of Government Procurement. Key sectors targeted are ICT, Web 2.0, Pharma, Biotech, Medical Devices and Engineering.
Speaking ahead of the mission Minister Bruton said:
"A key part of the Government's plans for jobs and growth is ensuring that we derive more benefit, as an economy, from the world-leading multinationals that have located operations in Ireland. A key part of this is ensuring that our Irish companies can get access to more opportunities from the procurement and supply chains of these multinationals. We have put in place a range of measures to deliver on this, and the "trade mission in Ireland" is a new initiative as part of this drive.

"Since taking office I have gone on dozens of trade missions with Irish businesses to countries around the world, seeking to put them in contact with large companies and Government organisations. The thinking behind the 'trade mission in Ireland' is that we can put the same model to great use in Ireland".
Julie Sinnamon, CEO, Enterprise Ireland, who is accompanying Minister Bruton on the trade and investment mission added:
"This Trade Mission is about helping Irish companies to win more business from foreign-owned multinationals based in Ireland. We hope to drive business flow towards Irish companies, as key suppliers, by leveraging off the existing, strong relationships that IDA Ireland have with these MNCs. Most of the Irish companies participating on this Mission already have a successful track record of servicing international buyers across the globe, so it is appropriate and obvious that they should be able to adequately meet the needs of those MNCs in Ireland. Ultimately this will drive the number of Irish suppliers to the MNC base – helping Irish companies grow and create more jobs in Ireland".
Martin Shanahan, CEO, IDA Ireland said:
"Multinational companies deliver huge economic benefits to Ireland in terms of direct employment, capital spend and developing Ireland's skill base. As part of this mission, we will be introducing our clients to Irish-based suppliers to see if there are areas where they can further co-operate and do business. Foreign investment has a significant impact on the Irish domestic economy. For every ten jobs created by IDA Ireland clients, there are seven jobs created in the wider economy".
Related articles