Netflix have been ranking ISPs for the last few months and publishing data on their blog. In the case of Ireland and the UK the data was on their Irish and UK blog (obviously!)
The new "speed index" covers all territories where Netflix is available
They've got quite a lot of data to draw their findings from:
More than 33 million global members view over 1 billion hours of TV shows and movies streaming from Netflix per month. We use the data associated with the streaming experience to compare ISPs and give you monthly insight into which ISPs deliver the best Netflix experience.
Globally the fastest ISP is Google, followed by Sweden's Ownit
The country with the best average connection is Finland and the report shows that all the Scandinavian countries provide a good level of service for NetFlix users.
Mexico, however, is the worst.
So how do the Irish ISPs do?
According to the latest figures released Magnet is currently the best, with UPC in 2nd place: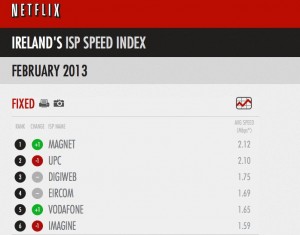 You can check the Irish ISP ranking here, or go to the main site to get data on any of the other markets Netflix is active in
Related articles