Pinterest has been contacting users of the social network who may have been affected by the ZenDesk security breach. The security breach affected 3 of Zendesk's clients and Pinterest was one of them. The other two were Twitter and Tumblr.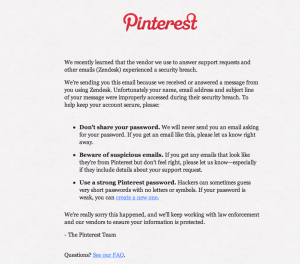 Text below:
We recently learned that the vendor we use to answer support requests and other emails (Zendesk) experienced a security breach.
We're sending you this email because we received or answered a message from you using Zendesk. Unfortunately your name, email address and subject line of your message were improperly accessed during their security breach. To help keep your account secure, please:
Don't share your password. We will never send you an email asking for your password. If you get an email like this, please let us know right away.
Beware of suspicious emails. If you get any emails that look like they're from Pinterest but don't feel right, please let us know—especially if they include details about your support request.
Use a strong Pinterest password. Hackers can sometimes guess very short passwords with no letters or symbols. If your password is weak, you can create a new one.
We're really sorry this happened, and we'll keep working with law enforcement and our vendors to ensure your information is protected.
– The Pinterest Team
Communicating clearly with your users after a security incident is important! So, well done to Pinterest.
Related articles