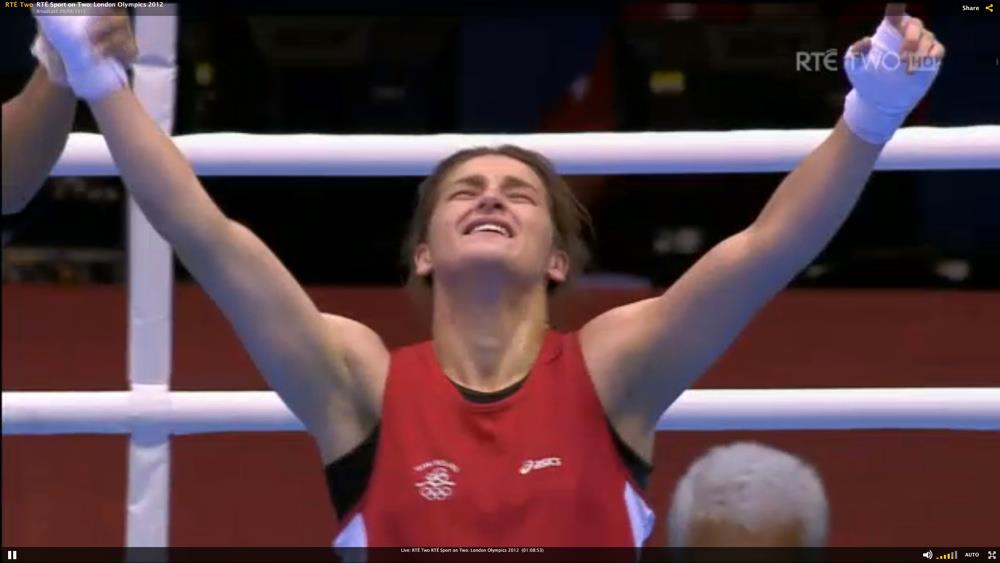 The reactions and memes on Twitter (and elsewhere) to Katie Taylor's win this afternoon are.. well see for yourself:
Film star Samuel L Jackson:
All of IRELAND Raise A Pint for Katie Taylor's Gold Medal Russian beatdown!!

— Samuel L. Jackson (@SamuelLJackson) August 9, 2012
Pop duo Jedward:
Katie Taylor has the coolest Bling Now in Ireland! an Olympic Gold Medal! Oh yeah Lets Go Katie Lets Go!

— JEDWARD(@planetjedward) August 9, 2012
The Irish Defence Forces:
Irish troops serving with the UN in South Lebanon salute Irish hero #katietaylor Olympic #boxing Champion! twitter.com/defenceforces/…

— Irish Defence Forces (@defenceforces) August 9, 2012
ESPN's Olympic Twitter account:
The Irish support of boxer Katie Taylor was unbelievable! One of the best moments in the London Games.

— ESPN Olympics (@ESPNOlympics) August 9, 2012
Piers Morgan:
For singing their anthem louder than anyone at the Olympics, the amazing Irish crowd at Katie Taylor ceremony deserve £1k to @greatormondst

— Piers Morgan (@piersmorgan) August 9, 2012
Nick Clegg
Congratulations Katie Taylor on her hard fought gold. Crowd packed with Irish fans. Unbelievable atmosphere. #boxing

— Nick Clegg (@nick_clegg) August 9, 2012
And thousands more ..
Related articles