Spotify is now available to Irish users. In case you're not familiar with it Spotify is a digital music service that gives you "on demand" access to over 18 million songs. If you like music then you'll love it.
So now the digital music service seems to have quietly enabled access to Irish users over the last 24 hours.
If you already had a Spotify account via a country where it was already available you might have noticed that Spotify activity started becoming visible on your Facebook timeline ..
Not already a Spotify user?
You can head over to the Irish site and get started for free.
The service is available in both free and "premium" and "unlimited" versions: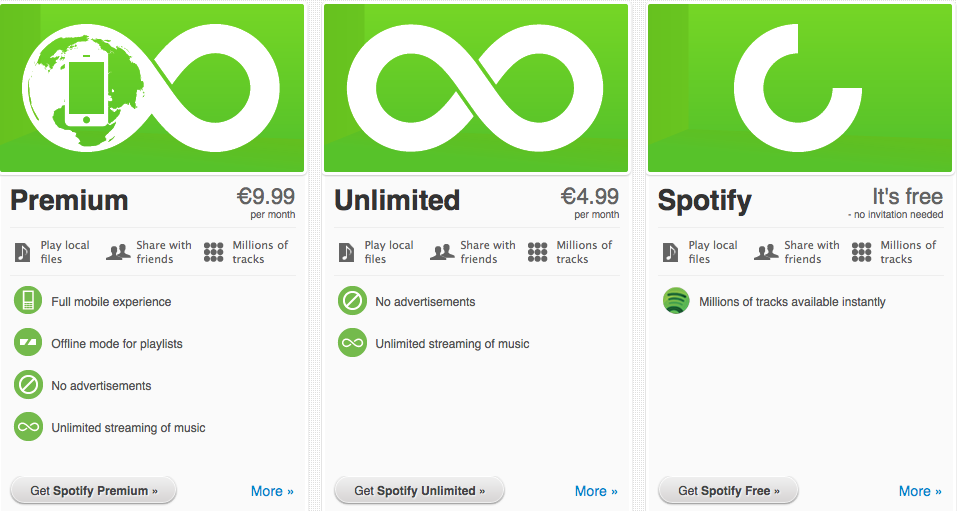 And of course you can get a free trial of the premium service to whet your appetite.
In order to use Spotify you'll need to download the desktop application which is available for both OSX and Windows. There's also apps for both iPhone and Android.
The desktop app includes a growing number of applications from 3rd parties that extend and improve the overall musical experience with Spotify.
For example, you can hook up your Last.fm account and get recommendations based on your listening patterns.
Already a Spotify user, what do you think of it?
Using one of the existing alternatives in the Irish market?
Do you think that Spotify is better or worse?
Will you try it?