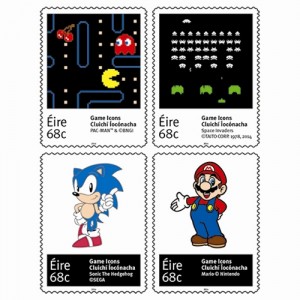 They used to be the latest in new technology: now they are icons of our heritage and culture. An Post have issued a new set of stamps commemorating: Space Invaders, PacMan, Mario, and Sonic the Hedgehog.
The old arcade hits Space Invaders and PacMan will raise a smile with a certain generation: I vividly remember the Space Invaders machine in the chipper in Macroom! Console favourites Mario and Sonic will be popular with all generations – instantly recognisable for kids to this day.
The stamps were designed by Zinc Design Consultants, the Dublin-based award-winning graphic design studio.
The four stamps, titled Game Icons – Cluichí Íocóineacha are available in a block of 4 standard class stamps featuring each of the images for €2.72, or a larger sheet for €10.88. The collectors edition First Day Cover featuring all four stamps costs €3.72.
Related articles