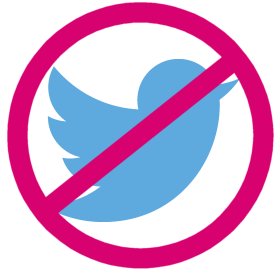 You may have missed this but, late yesterday, Twitter introduced changes to the way blocking works. Hours later they rolled back the changes in response to user protests.
In the current scheme of things, blocking a user means that they cannot follow you, favourite or retweet you. Yet if your account is public, they can still see your tweets on your profile page – so can anyone, whether they are logged in to twitter or not.
That's what 'public' means. Users who want to choose whether someone can view their tweets or not have the option to make their account private or 'protected'.
The problem with the current blocking functionality is that it doesn't stop someone from reading your tweets, but because they are restricted from following, it does make them aware that they are blocked.  And Twitter says some users feared antagonising the people they blocked, and requested that the functionality be changed.
So yesterday they rolled out a new functionality whereby blocked users were now merely ignored.  Those who blocked them would be protected from seeing their tweets, but those who were blocked would be unaware that anything had changed.
The response from users was overwhelmingly negative.
Twitter messing with the block function. It's like a zombie film where all the zombies have been contained then someone opens the gate!

— Owen Jones (@OwenJones84) December 13, 2013
After several hours, Twitter announced that the changes had been rolled back:
In reverting this change to the block function, users will once again be able to tell that they've been blocked. We believe this is not ideal, largely due to the retaliation against blocking users by blocked users (and sometimes their friends) that often occurs. Some users worry just as much about post-blocking retaliation as they do about pre-blocking abuse. Moving forward, we will continue to explore features designed to protect users from abuse and prevent retaliation.
Twitter had reasoned that, since blocking a user doesn't stop them reading your tweets, it was needlessly antagonising them to inform them that they were blocked.  But it seems that's not how the vast majority of users see it. The response seems to suggest that users felt more comfortable knowing that blockees could not follow them, or interact with their tweets.  Indeed, it appears that some users get satisfaction from the fact that the blockee knows he/she has been blocked.
Twitter felt that if you want that kind of privacy, you should make your tweets private, but it appears that users think that's giving in to bullies. It's a classic case of a company misunderstanding how users view its service. So what do you think?  Are users "doing it wrong"?  Or should blocking simply be whatever users want it to be?  Should Twitter simply add an "Ignore" button, or does that needlessly complicate things?
Related articles