TikTok has been banned from UK Government phones after a security review but ministers and officials will still be able to use the Chinese-owned app on their personal phones.
Cabinet Office minister Oliver Dowden announced the ban, which he said would be "good cyber hygiene", with "immediate effect" on Thursday.
Prime Minister Rishi Sunak has been under pressure from senior MPs to follow the US and EU in imposing the ban.
Deputy Labour leader Angela Rayner said Mr Dowden was "closing the stable door after the horse has bolted".
Mr Dowden said the ban, criticised by TikTok, was "a prudent and proportionate step following advice from our cyber security experts".
The ban – which is not being extended to members to the public – was being imposed over risks around how sensitive information can be accessed by TikTok.
"The security of sensitive Government information must come first, so today we are banning this app on Government devices. The use of other data-extracting apps will be kept under review," the minister said.
The Cabinet Office said the move was being taken because TikTok users are required to hand over data including contacts, user content and geolocation data.
Mr Dowden said there will be "limited exemptions" on some government devices made on a "case by case basis" where the app is required for work purposes.
TikTok, owned by Chinese internet company ByteDance, said it was "disappointed with this decision".
"We believe these bans have been based on fundamental misconceptions and driven by wider geopolitics, in which TikTok and our millions of users in the UK, play no part," a spokesman said.
"We remain committed to working with the Government to address any concerns but should be judged on facts and treated equally to our competitors.
"We have begun implementing a comprehensive plan to further protect our European user data, which includes storing UK user data in our European data centres and tightening data access controls, including third-party independent oversight of our approach."
Security minister Tom Tugendhat had asked chiefs at the National Cyber Security Centre to review the video-sharing app.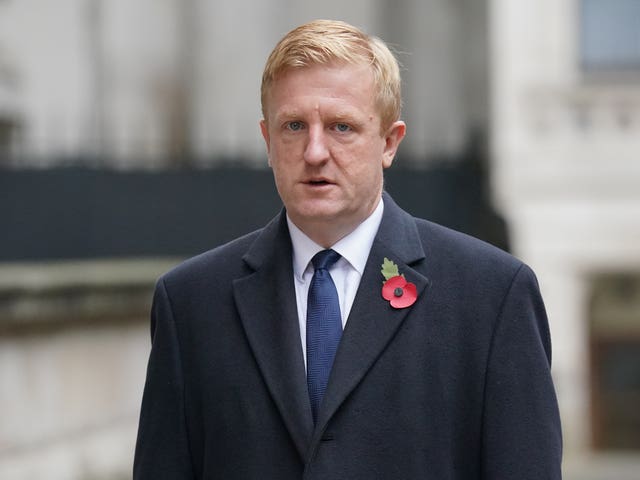 The ban will also likely anger Beijing, which has accused the US of spreading disinformation and suppressing TikTok amid reports the White House is calling for its Chinese owners to sell their stakes.
Science and Technology Secretary Michelle Donelan on Wednesday said the public can continue to use the app.
"In terms of the general public, it is absolutely a personal choice. But because we have the strongest data protection laws in the world, we are confident that the public can continue to use it," she told the Commons.
TikTok has long said it does not share data with China but Chinese intelligence legislation requires firms to help the Communist Party when requested.
Critics fear the policy could expose western data to Beijing.
Parliament's TikTok account was shut down last year after MPs raised concerns about the firm's links to China.