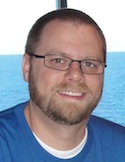 This week we'll be speaking to a very special guest – Patrick Ruddell.
Patrick is the founder and Editor in Chief of ScienceFiction.com. ScienceFiction.com was launched in 2010 and covers all aspects of sci-fi and fantasy, with regular updates on movies, tv shows and a whole lot more.
Apart from running one of my favourite sites, he's also an interesting character who has had a varied career spanning real estate, domain name investor, marketer, video blogger and entrepreneur.
So what should we ask Patrick about? Let us know in the comments 🙂