If the constant nagging of Microsoft Windows 10 upgrade reminders is getting to you, there's a neat little registry-editing utility that will shut them up, once and for all – in just 30 seconds!
Software upgrades are a good thing in principle, but sometimes you're just not ready. OS installs are major surgery, and not to be taken lightly. There are all kinds of good reasons for postponing them, sometimes indefinitely.
But Microsoft's new Windows 10 is making it increasingly difficult to say no.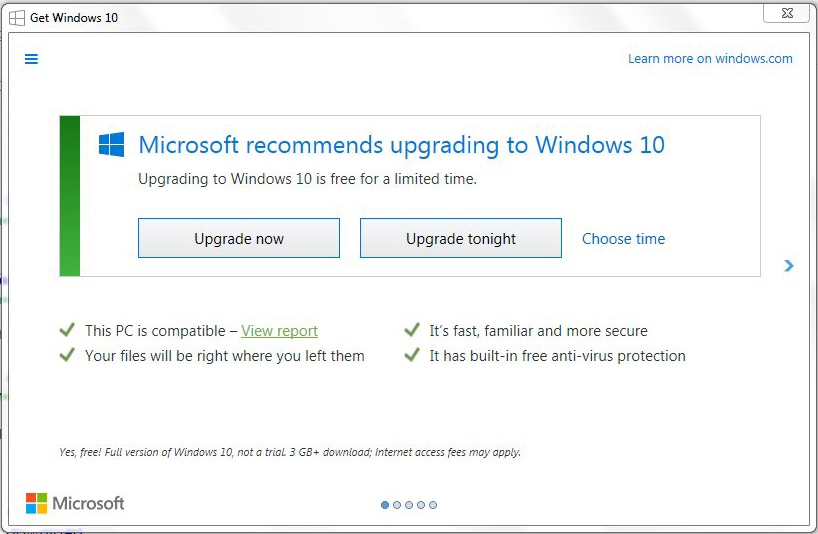 Escalation to Nagging Level 10!
Reminders have been escalating over the past few months, beginning with the information that your computer is compatible, and progressing with increasing frequency to constant pestering, and the choice to upgrade 'now' – or 'tonight'.
Recent reports suggest that it's become confusingly difficult to cancel a scheduled upgrade, with The Register claiming that, in some cases, simply clicking X to close the dialogue is taken as acceptance.
Meanwhile, 4GB of OS files have been downloaded in the background, and are sitting there, filling up your hard drive.
So, what to do? Well it turns out that cancelling the automatic Windows 10 upgrade is simplicity itself, thanks to a clever little registry-editing utility called Never10.
When I say 'little', I really mean that. Never10 was written by IT security expert Steve Gibson, entirely in Assembly Language, and it weighs just 83 kilobytes!
Geeky
Endearingly geeky, Steve says he's disappointed he couldn't make it smaller:
The digital signature increases the application's size by 4k, but the high-resolution and high-color icons Microsoft now requires takes up 56k! So without all that annoying overhead, the app would be a respectable 25k.
This morning I ran Never10 on an old Windows 7 laptop which will never be upgraded. It's prone to overheating, and I'm the process of decommissioning it, but the Windows 10 upgrade reminders are a needless distraction.
Any software vendor knows that users need to be able to manage their upgrades. So Microsoft has provided for the Windows 10 upgrade to be disabled in the Windows Registry but, as Steve explains, they didn't make it easy for non-skilled users:
… it was down right user-hostile. It required using the Windows Group Policy editor, which is not even present on lower-end Windows editions which were eligible for OS upgrading. Or it required manually creating keys and values in the Windows registry, which is fraught with danger if the wrong button is pressed.
Steve's response was to write Never10, which makes the process really quick, easy and straightforward.
Disabling the Windows 10 Upgrade in 30 Seconds
It downloads in an instant and, when run, it reads the current status of the Windows 10 upgrade from the registry. In my case: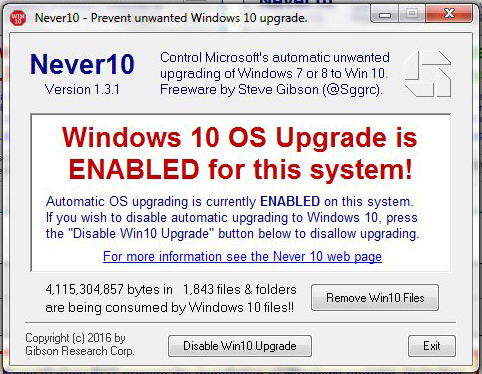 Clicking 'Disable Win10 Upgrade', changes the status: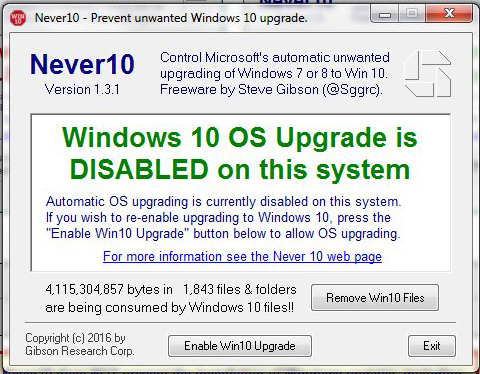 Finally, I clicked 'Remove Win10 Files' to free up 4GB of space on my drive: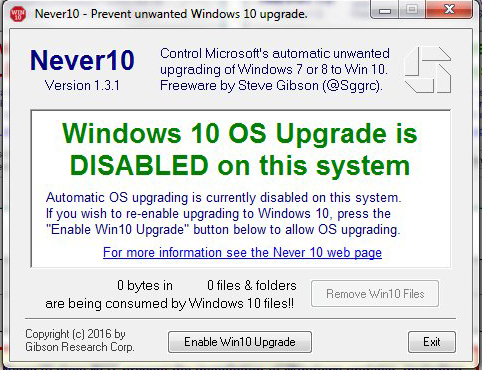 And that's it! Total time to disable Windows 10 upgrade: about 30 seconds – including download!
Mainstream support for Windows 7 ended last year, but essential security patches are scheduled to continue until 2020 – further for Windows 8. Windows 10 is available as a free upgrade until July 29, after which it will reportedly cost $119.
Technology.ie is brought to you by Blacknight, Ireland's leading supplier of domain names, web hosting and cloud services. Want to experience the power of cloud with the familiarity of Microsoft Office? Try Microsoft Office 365 free for 30 days!
Related articles