Ryanair's AGM is on today and media are reporting that some shareholders are expressing criticism of the airline's customer service and "macho culture".  The company's executives appear to agree that improvements can be made and, having been dismissive of social media in the past, they've identified it as a priority for the months ahead.  The Irish Times quotes Michael O'Leary saying:
"Our primary focus this winter will be to significantly invest in, and improve, the Ryanair.com website, our mobile platform and our interaction with passengers using social media"
He went on to say that the ReCAPTCHA security measure which Ryanair use to prevent competitors and others from using automated systems to scrape their website would be mostly discontinued for individual users from November, although it will be retained for certain ranges of IP address.
Ryanair have become famous for aggressively monetising things which others provide freely, even things which might be viewed as promoting their business, such as their mobile app, which costs €3 to download.  The app will be available for free from 1 October.
But I had to laugh when I went to check out their CAPTCHAs just now.  This security measure is brought to you by … Mastercard!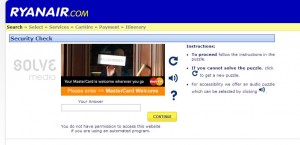 Related articles