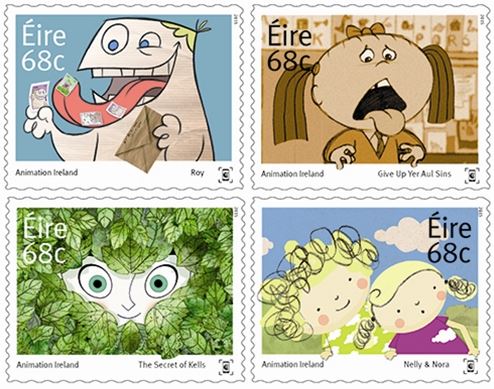 An Post, the Irish postal service, is celebrating Irish animation with its latest release.
The four stamps celebrate four Irish successes:
Roy produced by Jam Media, was awarded the coveted 2012 Children's BAFTA Drama Award.
Give Up Yer Aul Sins by Brown Bag Films, received an Oscar nomination in the Short film (Animated) category in 2002.
The Secret of Kells by Cartoon Saloon was nominated for an Oscar in 2010 in the Best Animated Feature film category.
Nelly & Nora by Geronimo Productions has achieved considerable international success following its world premiere in February 2015.
What makes this release even more interesting is the usage of augmented reality. If you scan the stamps using any smartphone with the CEE app installed you get access to a specially produced film featuring Roy, Give Up Yer Aul Sins, The Secret of Kells and Nelly & Nora, and other animated works.