Facebook's Mark Zuckerberg announced this morning that the social media network now has 1 billion active users each month.
They had hit the 500 million user mark just two years ago in July 2010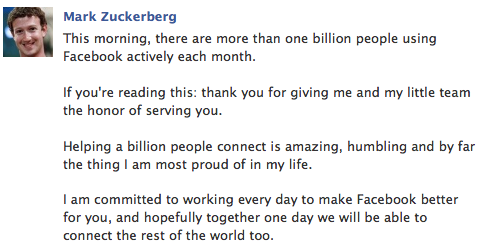 Here's the full text of the announcement:
This morning, there are more than one billion people using Facebook actively each month.

If you're reading this: thank you for giving me and my little team the honor of serving you.

Helping a billion people connect is amazing, humbling and by far the thing I am most proud of in my life.

I am committed to working every day to make Facebook better for you, and hopefully together one day we will be able to connect the rest of the world too.
They've also released some up to date stats on their userbase.
The median age of new users is 22
They've got over 600 million mobile users! (Though they're still having issues monetising them).