Internationally recognised Irish research and industry partners have announced the launch of the CitySense Project in Dublin city. A proof of concept project, an 'urban nervous system' will use sensor technology to measure everyday atmospheric conditions and how they impact on people. Members of the public will have the opportunity to win a mountain bike by tweeting pictures of the CitySense branded bikes which will be seen around the city during Web Summit.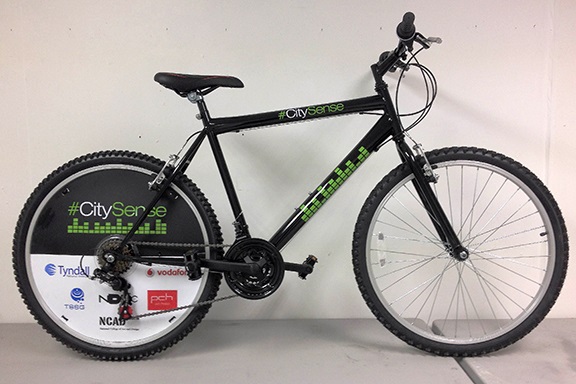 The study is supported by PCH, Tyndall National Institute, TSSG Waterford, National College of Art & Design and Vodafone Ireland. For the project, the CitySense multidisciplinary team developed a digital tracking device from initial concept to fully functional product in only three months. Tyndall and PCH International will provide the sensor technology that will gather the atmospheric data while NCAD will collaborate to design the usable sensor system. The Vodafone Ireland network and machine-to-machine technology experience will enable the transmission of the data collected which will be collated, analysed and presented by TSSG Waterford.
The environmental sensor and GPS equipment will be mounted on 20 Cyclone Courier bikes along with volunteers from the Dublin Cycling Campaign and will measure carbon dioxide, carbon monoxide, smoke and particulates, and temperature levels around Dublin city. The results, which once collated, will allow researchers to map information critical to the everyday functioning of the city and its inhabitants such as environmental pollution, traffic congestion, urban planning and policy development. The project will begin on Monday 03rd November with the results to be revealed on Thursday 06th November at the Dublin Web Summit.
Commenting on the initiative today, the Minister for Skills, Research and Innovation, Damien English TD, said: "The CitySense Project is an extremely important concept and a tangible example of how Irish research bodies can collaborate with industry to make a difference to the everyday lives of people. It is illustrative of the research and design talent that we have here in Ireland, and how our institutions are working with industry to have an impact on the global stage. The CitySense Project will allow people to actively contribute to the wellbeing of their environment and make decisions based on real time information, thus enhancing their interaction with their surroundings."
"PCH has been working closely with Tyndall Institute and we are delighted to partner with them again on this exciting project," said PCH Founder and CEO Liam Casey. "Together with the other partners on this project, we have taken this idea from concept to reality in just under three months. We're looking forward to seeing the live data as it comes in to the PCH stand during Web Summit."
Kieran Drain, CEO Tyndall National Institute commented; "We are delighted to be a part of the CitySense Project whereby citizens become sensor networks, effortlessly measuring their surrounding environment. The project draws together research and industry expertise to utilise not only sensor technology, but broader areas such as wearables and the 'Internet of everything'. This combination of technology and empowerment means that the opportunities for real time data collection are unlimited, and could be utilised in any urban or rural setting on a continuous basis."
Professor Willie Donnelly, Director of TSSG commented: "The Internet of things places the citizen at the heart of all technologies. CitySense is an ideal exemplar of how research institutes can come together, along with industry, to draw on the expertise of over 1400 researchers to solve a problem in an innovative way. A globally unique eco system combining research and industry which can develop a full IoT system, delivering unique and highly innovative services & solutions for the new citizen centric world. TSSG are delighted to be one of the building blocks of this globally unique eco system, by providing the software system that brings to life both the hardware, design and product in a unique way. By building on the idea of a smart society for the citizen, these innovative ideas will enhance the quality of everyone's lives."
Derek McGarry, Head of Innovation and Engagement, National College of Art and Design commented: "The CitySense project was a great opportunity for NCAD staff and students to show off our design expertise while working closely with hardware and software developers. Significantly, the CitySense multidisciplinary team developed a digital tracking device from initial concept to fully functional product in three short months. The successful outcome of the CitySense project illustrates the real value and impact of bringing together diverse specialists to work on a common design challenge. From the outset the CitySense product put the end user first. Although piloted in Dublin, all cyclists, city planners and road users will now benefit from the feedback the CitySense tracking device can generate for them. NCAD expects that CitySense will be the first of many co-creative partnership projects for this new research team."
Anne Sheehan, Enterprise Director, Vodafone Ireland commented; "The Internet of things creates a wonderful new world of opportunity across every domain, but projects can be complex – this initiative pulls down these hurdles, and opens up a partnership of expertise that Vodafone Ireland are delighted to be a part of. This ecosystem enables customers to harness the full potential of Vodafone Machine-to-Machine technology and experience"
As part of the CitySense project, five branded CitySense bikes will also cycle around the city centre collecting data. Members of the public can win a mountain bike by tweeting a picture of the branded bikes to @CitySenseDublin. With a total of three bikes to be won, the entry tweets will be collated and one lucky winner will be selected at random at the end of each day, with one bike per day to be given away. The City Sense booth at the Dublin Web Summit will also collect entries from attendees were they must predict the various environmental levels that the bikes feedback. This will be collected from either an answer on the back of a business card or a tweet to the @CitySenseDublin account.
Related articles