An attempt to make British space history by launching a rocket into orbit from UK soil has ended in failure after suffering an "anomaly" during the flight.
After taking off from Cornwall, the Virgin Orbit plane flew to 35,000ft over the Atlantic Ocean where it jettisoned the rocket containing nine small satellites towards space.
Organisers of the Start Me Up mission said the rocket – with a variety of civil and defence applications – failed to orbit.
In a series of tweets, Virgin Orbit said: "We appear to have an anomaly that has prevented us from reaching orbit. We are evaluating the information.
"As we find out more, we're removing our previous tweet about reaching orbit. We'll share more info when we can."
Early on Tuesday morning, Virgin Orbit issued a statement which said: "Out of five LauncherOne missions carrying payloads for private companies and governmental agencies, this is the first to fall short of delivering its payloads to their precise target orbit."
"While we are very proud of the many things that we have successfully achieved as part of this mission, we are mindful that we failed to provide our customers with the launch service they deserve," chief executive Dan Hart added.
"The first-time nature of this mission added layers of complexity that our team professionally managed through; however, in the end a technical failure appears to have prevented us from delivering the final orbit."
While engineers tried to establish what went wrong, the plane returned to Spaceport Cornwall safely.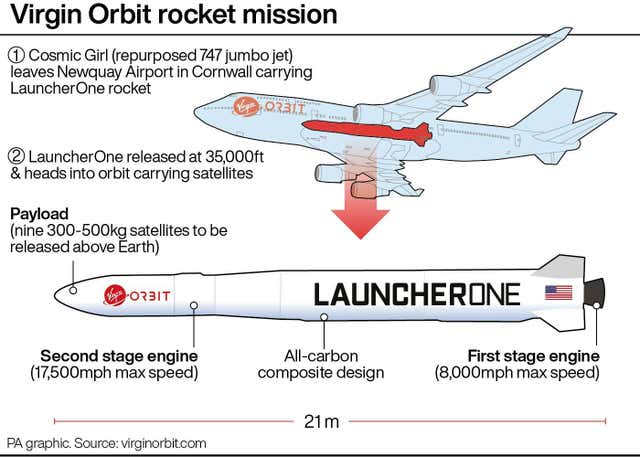 The plane, dubbed Cosmic Girl, took off on Monday night from Cornwall Airport with hundreds of members of the public watching and over 75,000 viewing a live stream of the event.
Named in tribute to the Rolling Stones' 1981 hit, the mission involved a repurposed Virgin Atlantic Boeing 747 aircraft and Virgin Orbit's LauncherOne rocket.
It was originally hoped the launch could take place before Christmas but owing to technical and regulatory issues it had to be pushed into 2023.
The plane took off horizontally from the new facility at Cornwall Airport in Newquay while carrying the rocket under a wing.
To prepare Cosmic Girl for the launch the interior of the main deck was gutted of all seats and overhead bins to reduce the weight.
The upper deck, which was the former premium and economy cabin, has been converted into a small mission control room for launch engineers to oversee the mission the during flight.
Once the Boeing 747 reached the drop site, the pilots flew her in a looping "racetrack" pattern ahead of the rocket launch.
Melissa Thorpe, head of Spaceport Cornwall, spoke of her devastation at the mission failure.
"This isn't the first time we've been knocked, this is the biggest definitely, but I feel okay and we'll get up and we'll go again," she said.
"It hasn't gone exactly to plan but we've done everything that we said we were going to do at Spaceport.
"We're feeling awful, to be honest – I'm not going to lie.
"It's gutting and we all heard at different times and when we got together there were tears, and it was very upsetting.
"We are family and we've been through a lot together. So, when you go through something like this as a family at least you have that support, and we all understand one another.
"There's not much more I can say other than it's gutting but everybody's okay."
Matt Archer, from the UK Space Agency, said the second stage of the launch suffered an "anomaly", which the cause of was under investigation.
"In effect the rocket has not reached the required altitude to maintain its orbit or deploy the satellites and therefore the mission was unsuccessful," he said.
"Over the coming days, there'll be an investigation involving the Government and various bodies, including Virgin Orbit, to make sure we understand what caused that technical failure and again we'll work out what to do next following that."
Space is difficult. Everyone's used to seeing rockets which explode from Japan, what have you
He said the first stage burn would have got the rocket into basic orbit but a second stage was needed to put it 500km above the earth
"That didn't happen tonight and what you have seen is that it has reached space but hasn't reached the required orbit," he said.
"While it is obviously disappointing that the mission wasn't successful, actually we're really proud of the fact that we've delivered so much here and we've created the conditions for launch here.
"We've seen that we can do it and we will look to do it again."
Business Secretary Grant Shapps told Sky News: "Space is difficult. Everyone's used to seeing rockets which explode from Japan, what have you.
"The great thing about this technology is that no-one was harmed. The pilots came back in the aircraft.
"It didn't work. I've no doubt that they'll pick themselves up, dust themselves off and they'll go again once they find out what exactly went wrong with it."
He added: "It was a big moment nonetheless yesterday."
The rocket was likely to burn up on re-entry to earth but was projected to land over water.