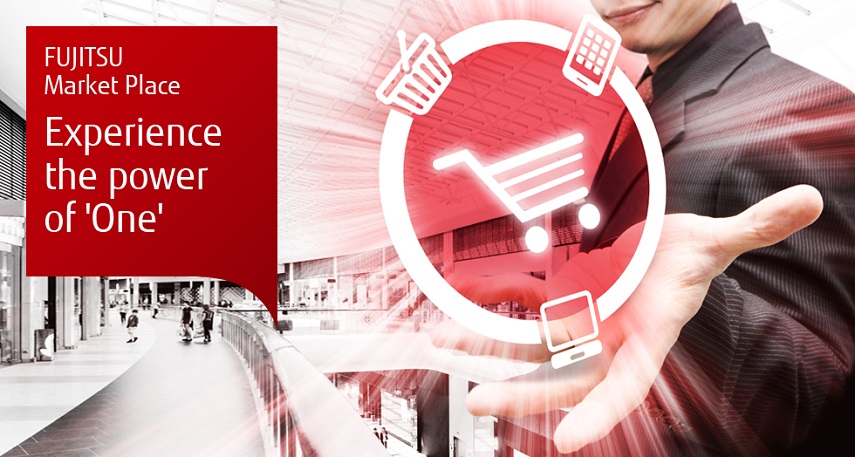 Fujitsu has announced the global availability of its new omni-channel Point of Service (PoS) application that allows retailers to significantly increase revenue while reducing IT costs. FUJITSU Retail Solution Market Place achieves this by supporting enterprise-wide transaction and order fulfilment to deliver a consistent and seamless buying experience to their customers via traditional PoS, online and mobile channels using a single user interface.
Fujitsu says its investment in a true service-oriented application architecture (SOA) future proofs the retailer's investment by simplifying and speeding integration across the retail enterprise. This approach makes it easier to be ready for the 'next big thing in retail' so new technologies can be integrated and available to the business quickly and without adding significant support overhead. Since its introduction earlier this year, FUJITSU Market Place has drawn lots of interest from major retailers, retail analysts and retail architects globally.
Using this approach, FUJITSU Market Place breaks down the barrier between orders and in-store shopping by combining both in a single transaction. For the customer, this delivers uniform pricing, promotion and customer-relationship experiences whether online, in-store or via a mobile device. It also allows the sales associate to transact business with the customer through a single application rather than switching between separate PoS and online order fulfillment applications, making the operation quicker, easier and more likely to be accurate. And for the retailer, it provides increased profitability through a reduction of 'dropped baskets.'
Roland Tritsch, Director Business & Application Services, Fujitsu Ireland said:
"Despite challenging times in recent years, the retail sector in Ireland has seen a strong pattern of growth in 2014. As we look to the future, Irish retailers need to invest in technology solutions which allow them to easily adapt to rapidly changing market conditions.

Fujitsu is leading a game-changing response with the release of this Omni-channel Retailing Solution. The service-oriented application (SOA) solution plays a revolutionary role in enabling retailers to reduce IT costs while adjusting with speed and agility to fundamental business change. The Omni-channel Retailing Solution is one of Fujitsu's most significant innovations to date, leveraging its commitment to the sector and incomparable retail heritage of over 30 years."
Michael 'Monty' Montgomery, Master Architect, IDesign Inc, said:
"The architecture of Fujitsu's new Point of Sale system, FUJITSU Market Place, is state-of-the-art in both design and construction. Its contemporary SOA design facilitates a greater degree of service integration, enabling varied user-driven workflows to easily coexist within a single UI, while its modern design also provides it the flexibility to fit deployments of any size while also allowing it to grow with changing needs.

At the same time, FUJITSU Market Place's construction extends these SOA principles into the POS software development kit (SDK) itself, giving the SDK powerful extensibility capabilities while maintaining a simple, streamlined service-oriented programming experience. Its design also offers modern Application Programing Interface (API) capabilities to simplify integration with web sites, devices and other systems.

Individually, these capabilities represent the best in modern software architecture. Combined, they future-proof the system, safeguarding an organization's software investment for the long term."
FUJITSU Retail Solution Market Place is now available to customers globally through Fujitsu.
Related articles