Tommy Butler
[ 39:58 ]
Play Now
|
Play in Popup
|
Download
Tommy Butler owns the domain name Glasgow.com, but now it's up for sale, and in a podcast interview with Technology.ie he talks about his reasons for selling, his thoughts on the value of domain names, his strategy for domain success, and why a good domain is a business asset.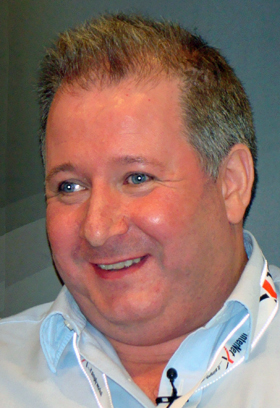 Click on the player above to listen to the show, or download it here: 39:58; 23MB; MP3.
A native Glaswegian, he's especially proud to have owned and run Glasgow.com, which he bought in 1999 for an undisclosed sum. It went on to become a centrepiece of his collection of over 2,000 domains which he develops, manages, buys and sells.
Tommy is a strong believer in mass development of domains as a strategy for success. Each year he publishes all the traffic stats for each of his sites. "Our traffic always increases", he says, "year-in, year-out".
"People complain that mass development doesn't work. It works for us. It's worked for us for 18 years and therefore I've got 18 years worth of traffic stats to prove otherwise."
The rise of social media doesn't diminish the value of domains, says Tommy: it enhances them. Glasgow.com comes complete with a Twitter account and LinkedIn profile.
"To me the domain is the heart and soul of your online business. It's not your social media accounts. It's not your Facebook account.  And I say this to every business: If you have the right domain name for your business, your business will succeed no matter what."
Dot-com names have held their value, says Tommy, even with the rise of the new generic TLDs. A good generic name is valuable because it's a revenue-generating asset.
"People have been uneducated about what is the value of a domain name, and I think that's why social media and SEO have become far more important … They'll happily spend two thousand, three thousand, getting their SEO done, but if they took that money and bought the domain name, the domain name will bring in better results than the SEO – and they'll own the name!

"And then if you've got a good name, and you've put SEO on it, it's a fantastic combination!"
Technology.ie is brought to you by Blacknight. Check out our amazing offers at domainoffers.me.
Like the show? We love making it! Subscribe with iTunes or RSS.