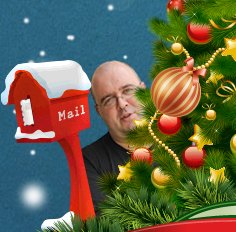 It's Christmas!  Time to put down the screens and engage with family and friends in a meaningful way.
We reckon you'll last about a day! Well – OK – we're speaking for ourselves of course, but we think we'll be ready to jack into the matrix again by Thursday afternoon.  So we've scheduled a live podcast – a Google+ Hangout On-Air for Thursday at 3pm and we'd like you to join us.  Don't worry if you're stuck in Ballydialup for the holidays: both Michele and I will probably be audio-only.  Bring your Santy-presents and tell us about your Christmas tech.  No doubt there will be breaking news to discuss as well.  OK?  See you on the other side!
Go dtí sin: guímíd beannachtaí na féile oraibh go léir!
Related articles