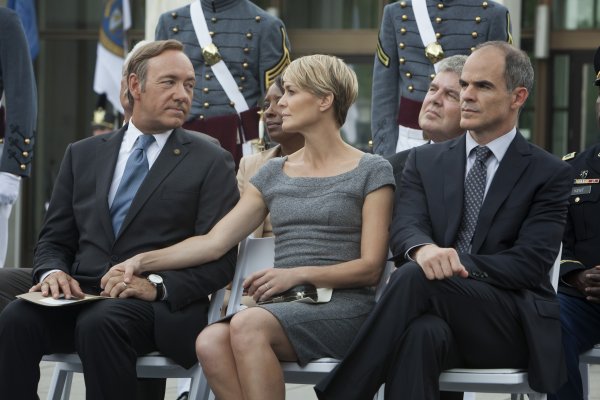 Netflix has just announced that the second season of "House of Cards" will premiere on Friday February 14, 2014.  And if you want, you can watch all 13 episodes in a Valentine's day marathon!
Directed by David Fincher and starring Kevin Spacey and Robin Wright the critically-acclaimed drama slithers beneath the curtain and through the back halls of greed, sex, love and corruption in modern Washington D.C.
In the second season, Francis (Spacey) and Claire (Wright) Underwood continue their ruthless rise to power as threats mount on all fronts. Zoe Barnes (Kate Mara), an up-and-coming reporter and Francis's former paramour, is inching closer to the truth about his crimes. Raymond Tusk (Gerald McRaney, "Southland"), billionaire confidant of the President demands that Francis reciprocate political favors or face retribution. And Claire must confront the increasing glare of the spotlight as it eats away at her and Francis's once private existence. The Underwood's must overcome these dangers — past and present — to avoid losing everything, regardless of collateral damage they leave in their wake.
Carl Franklin ("Homeland"), James Foley ("Glengarry Glen Ross"), John David Coles ("Justified"), Jodie Foster  ("Orange is the New Black") and Robin Wright all direct season-two episodes.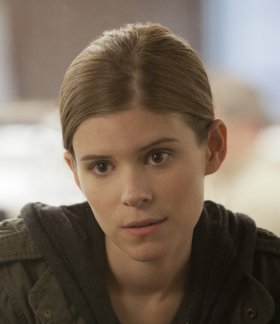 In the summer of 2013, for its first season, "House of Cards" made history as the first ever streaming series to earn Primetime Emmy® nominations in major categories, including:Outstanding Drama Series, Outstanding Lead Actor in a Drama Series (Spacey), Outstanding Lead Actress in a Drama Series (Wright), Outstanding Casting for a Drama Series(Laray Mayfield and Julie Schubert), Outstanding Directing for a Drama Series (Fincher), Outstanding Cinematography for a Single Camera Series (Eigil Bryld), Outstanding Single Camera Picture Editing for a Drama Series (Kirk Baxter), Outstanding Original Main Title Theme Music and Outstanding Music Composition for a Series (Jeff Beal). In all, the show took home three Emmy® wins for casting, directing and cinematography for its first season.
There's a Facebook page for more information; see @HouseOfCards on Twitter; or check it out on Tumblr or netflix.com/houseofcards.
Related articles