Instagram may have been acquired by Facebook, but it's still a separate service.
Unlike the more "traditional" web services Instagram started on mobile only, but has been moving towards the "web" in recent weeks.
A couple of weeks back they announced "user profiles" which allow users – both individual and business – to reference their Instagram account via their username eg. http://instagram.com/mneylon takes you to my profile. While this is hardly revolutionary, it's interesting to see how they're doing things almost "in reverse".
Their latest offering is "badges" so that you can now link to your business (or personal) profile in much the same way as you would your Facebook, Twitter, YouTube, Google+ or Pinterest account: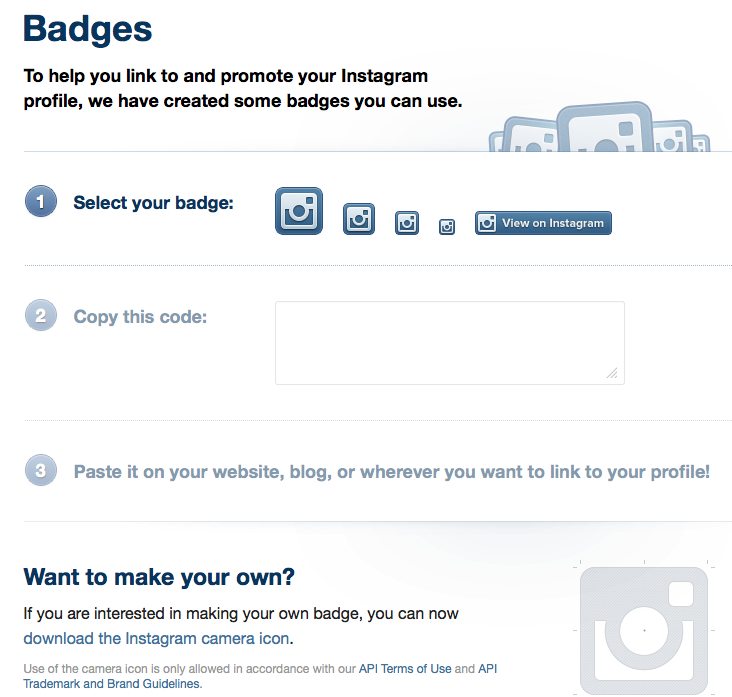 You can access the badges once you're logged in to your Instagram account.
Facebook, the parent company, is obviously going to have to recoup some of its investment in Instagram at some point, so the announced changes to the data usage policy for Facebook and its associated companies shouldn't come as a surprise to users.
All Facebook users were notified of the planned changes earlier this week via email, though how many people actually took the time to read the fine print is another matter entirely. Some analysts suspect that Facebook will start publishing advertising of some kind on Instagram, though if they don't actually push the ads out they'll be able to use the user data for selling advertising on their main platform or possibly just sell the data itself ..
Related articles