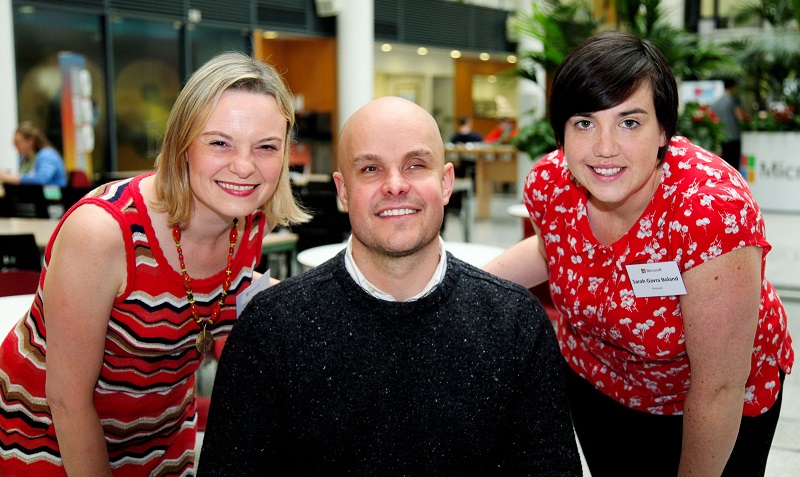 Microsoft Ireland's campus in Sandyford played host to a graduation ceremony for Enable Ireland's Assistive Technology training programme. The Foundations in Assistive Technology programme, which is accredited by Dublin Institute of Technology, is designed to meet the needs of adults with disabilities as well as their families and carers. It also targets employers, educators, Enable Ireland staff and representatives of other service delivery agencies together with programme funders.
Microsoft has been supporting the programme for 13 years and since then 320 graduates have come through the programme. The event recognised 12 more students who will now go on to have a profound impact in Irish communities. Enable Ireland Assistive Technology programs train 1,000 students per year and the multiplier effect of Enable's direct reach is approximately 19,000 individuals with disabilities per annum.
Ease of Access features of Microsoft Windows such as screen magnification and speech recognition are important accessibility tools which play a key part in the programme, and, in turn, are relied upon by many people with disabilities. Additionally, the Microsoft Office team recently introduced a feature called the Accessibility Checker to ensure those with disabilities can access content.
In addition to hosting the graduation ceremony, Microsoft also gave Enable Ireland a software donation worth €1.3 million. This brings the total value of software donated to Enable Ireland in the last three years to over €2.53 million. This has enabled Enable Ireland to introduce technological change in the organisations operations and helping them to achieve cost savings and improve performance.
Orla Hogan, Communications Director, Microsoft Ireland, said:
"Microsoft has enjoyed a long term partnership with Enable Ireland. This partnership, spanning more than a decade, has been mutually beneficial. While we have been delighted to support Enable Ireland financially, through software donations and through the work of our volunteers, the team at Enable Ireland has also helped us to improve the accessibility features in our software. Ensuring that as many people as possible get to benefit from the full impact of new improved technology is really important to us and the Enable Ireland team has played a key role in testing and providing feedback to us on our products over the years."
Siobhan Long, National AT Manager, Enable Ireland, said:
"We are very proud of the twelve graduates who today join more than 300 others who have benefitted from the programme and who in turn have used the knowledge they gained from it to reach many thousands of Assistive Technology users. These training courses are notable for the impact they have in terms of improving access to education and the world of work through technology. Assistive Technology has enormous potential to aid communication and independent living and is fundamental to ensuring those with disabilities harness every advantage it provides. Microsoft support over the years has enabled us to introduce so many free, built-in features on Windows computers, benefiting countless individuals in the process. Most recently, their donation of an Xbox has enabled us to work with their gaming software to make it accessible to young gamers with physical disabilities."
Adding further inspiration to the day's events was the athlete Mark Pollack. He spoke to the gathering about the use he has made of technology in his own life as he first faced the challenge of blindness and now more recently, paralysis.
"Technology enriches all our lives, but for those with disabilities, its effect has the potential to be truly life changing. As someone who is blind, Assistive Technology is something I rely on – it helps me in my work and also helps me in my adventure and sporting life. It gives you back a level of independence which is invaluable and assists those with disabilities in overcoming a range of everyday challenges they might face from opening a door to writing an email. I applaud the role Enable Ireland is playing in empowering those with disabilities and those who people their lives including employers and educators to get up to speed on what is a fast-changing world of Assistive Technology. Microsoft is an essential partner in this effort – from its own products, which are equipped with an ever-increasing range of disability-friendly features, to the role its employees play as volunteers for Enable Ireland."
Related articles