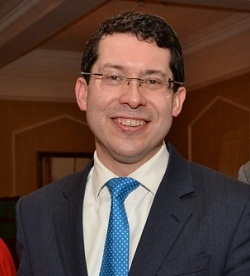 Independent University Senator Rónán Mullen has called on the Minister for Justice to introduce an online system for victims of crime to follow the progress of Garda investigations. Speaking in the Seanad today, Senator Mullen asked for a progress report on the implementation of the EU Crime Victims directive and urged the Minister for Justice, Frances Fitzgerald, to introduce a 'track-my-crime' information system similar to that adopted by police authorities in the UK.
"Victims of crime often feel left out in the cold when it comes to the Garda investigation of their cases," Senator Mullen told the Minister. "Crime victims want to know if someone has been arrested for vandalising their car or whether Gardaí have arrested people for breaking into houses locally. Victims can become frustrated as they struggle to contact a particular investigating Garda who may be off-duty or on patrol. However, a dedicated website would act as a one-stop-shop information source. This would be a great tool for victims and could easily be updated by the investigating Garda."
"There has been widespread public support in the UK for the 'track-my-crime' online system being used by police constabularies in Kent, Northampton and other parts of the country. An online service would satisfy the need of many crime victims here for an update on the status of their police investigation –whether it's about the detention of a suspect, the filing of charges or the setting of a court date. Ireland has introduced innovative schemes in the criminal justice area before, such as the Criminal Assets Bureau. The Government must think outside the box again to assist victims of crime", Senator Mullen said.
Senator Mullen said the need for such a service was all the greater because of reduced resources available to Gardaí. "Numbers in the force fell from 14,500 in 2010 to 12,900 today and 139 Garda stations have closed since 2011. Much Garda time is spent trying to get hold of victims to provide them with an update. I believe an easy-to-use online service would save valuable Garda resources as well as addressing the information deficit that victims of crime face."
Responding to Senator Mullen, Minister Fitzgerald acknowledged that the system he was proposing had "intuitive appeal" and said she would ask the Acting Garda Commissioner to examine the feasibility of such a scheme.
Related articles