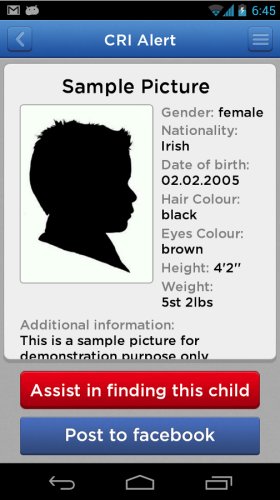 The Garda Commissioner Martin Callinan, the Minister for Justice, Equality & Defence Alan Shatter TD, and the CEO of Vodafone Ireland Anne O'Leary have this morning launched a new free smartphone app that allows users to receive CRI (Child Rescue Ireland) alerts direct to their smartphone.
The smartphone app was created with the assistance of the Vodafone Ireland Foundation, and is available for free on Apple, Android and Windows Media platforms. It further increases the channels available to Gardaí for publicising a CRI Alert once it is launched.
The app utilises two strands – a notification for when a CRI Alert is issued, and a space to securely maintain up-to-date information (including photos) concerning your own children for easy access (by the phone's owner only) should the need arise.
The notification section will include details of the child and/or children who are the subject of a CRI Alert and any additional information that An Garda Síochána believe will help in their inquiries. People who have downloaded the app will be notified each time a CRI alert is updated with the latest information. They will also be able to share these CRI Alert updates with their Facebook friends, as well as being able to contact An Garda Síochána at 112 or 999.
Commissioner Callinan welcomed the smartphone app initiative:
"Strict criteria must be met before the CRI Alert is issued. If these criteria are met, CRI Alert information is distributed by An Garda Síochána to the public through a range of communications channels.

With this launch today we now have an additional means of getting the message of the CRI Alert to the public in the form of a smartphone App. Over 50 percent (50%) of the public in Ireland own a smartphone and as a result the potential for quickly reaching vast numbers of the population with critical information is enormous."
Related articles