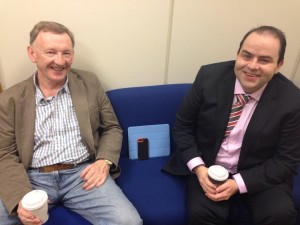 The 2013 EY Entrepreneur of the Year awards were annnounced last night at an event in Citywest, Dublin, which was broadcast live.  The overall award went to Patrick Joy of Suretank, a world-leading manufacturer of CCUs (Cargo Carrying Units) for the Offshore Oil and Gas Industry.  Seán is pictured here with last year's winner, Edmond Harty of Dairymaster, as they prepare to go on television this morning.
Edmond won the International category at last night's ceremony, before being crowned as the overall winner.  Brian Hogan of Kylemore Services Group, the contract restaurant and catering company won the Industry category.
The emerging category prize went to Maurice Curran and Kieran Fitzpatrick of Barracuda FX, developers of foreign exchange trading and risk management software solutions.
Related articles