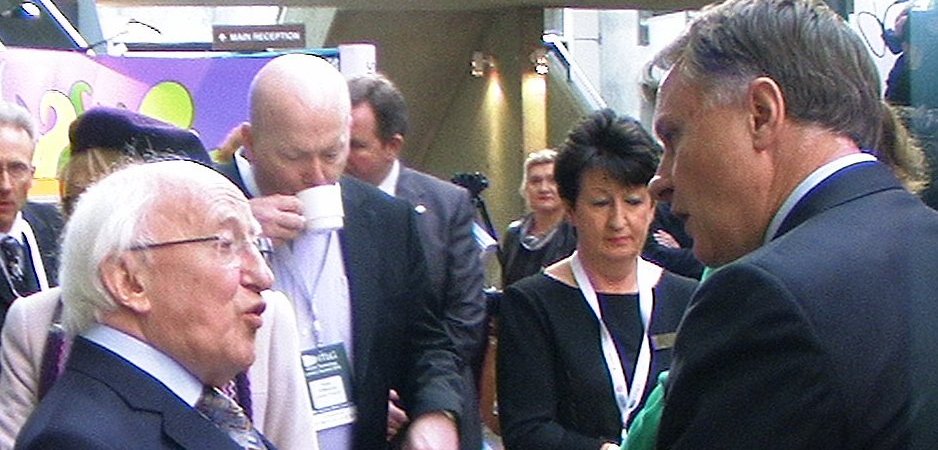 President Michael D Higgins has called for a Republic of Creativity built on invention and original thinking.  He was speaking at the opening of the Silicon Valley Global Forum organised by the Irish Technology Leadership Group in Limerick this morning.
Entrepreneurs and technologists from Ireland and Silicon Valley gathered at the University Concert Hall for this today's event.
President Higgins paid tribute to John Hartnett, President of the ITLG and to the organisation's chairman and former chairman of Intel, Dr Craig Barrett.  Dr Barrett received the President's Award for Distinguished Service Abroad from President Higgins in November.
President Higgins drew on Ireland's reputation for creativity in his speech, saying that sometimes the need for creativity had been forced upon us:
We – the Irish – have both chosen and been forced to innovate and reinvent. That reinvention is demonstrated in four Nobel Prizes in literature, taking on and reworking the English language.
Not surprisingly, the President's speech made the usual references to Ireland's young and educated population and he talked about the recently held Young Scientists' Exhibition and the ITLG Young Innovators competition which was launched the previous day in Shannon.  He said that technology must must be a resource for people, rather than the other way around.
In a Republic of Creativity every young person should have the opportunity to develop her or his innate human potential. Talents, modes of thinking and critical capacities are best nurtured at an early age, with pupils of all ethnic origins and social backgrounds being encouraged, while accessing the legacy of knowledge, to develop a sense of curiosity, to question received versions of our contemporary world, and to develop new solutions and creative alternatives to the problems of the day. 
In a subtle (and perhaps unwitting) appeal to his audience of geeks, the president paraphrased Star Trek's Mr Spock:
However, as we build this promising future it must be underpinned by a strong contemporary ethic built on a template of justice – a sense of justice that prioritises meeting the legitimate needs of the many over sating the speculative ambitions of the few.

With greater technology and scientific advancement come increasing ethical dilemmas, with difficult choices and decisions to be made. With each new technological and scientific breakthrough come a set of challenging questions about equitable access to this technology and its potential impact on how its users, as citizens, interact with each other as members of a shared community.

As the technology sector continues to grow and develop at a rapid rate, the expert knowledge, wisdom and moral leadership of the people in this room will be very important, for example, in establishing ground rules for this era of digital citizenship – ground rules that respect the fundamental decency and integrity of each human being and are based on an understanding that our humanity is rooted in a shared sense of community that needs to be nurtured and sustained.
Related articles