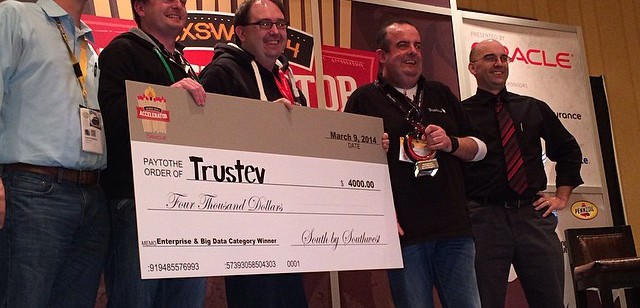 Great news from Austin, Texas this morning as Irish startup Trustev took the top award in the Enterprise and Big Data category of the SXSW Accelerator contest.
The timing couldn't be better for the Cork based company as it prepares to open its new US office in New York.  CEO Pat Phelan has recently moved to New York to lead the initiative and this success is just the latest accolade for the company which appears to be riding the crest of a wave.  In August the EU Commision named them Europe's Top Technology Startup and in October they raised one of Europe's largest ever seed rounds, $3.5m from some of the worlds top investors. Since then they've been named one of Forbes magazine's hottest global startups on top of a host of other accolades.
Trustev CEO Pat Phelan is delighted:
"We're over the moon to be bringing this award home to Ireland. It comes at a great time for us as we prepare to open our US office in New York in just a few weeks. Ireland had an incredible presence at the event this year. Our startup cousins, ViddyAd put in an incredible performance in their category which was the talk of the event. The Irish pavilion organised by Enterprise Ireland and the IDA was one of the centrepieces of the trade show. Once again Ireland boxed far above its weight in the global technology community. We've spoken to several companies who are planning to set up operations in Ireland as a result".
Trustev protects online transactions against fraud by verifying the identity of customers prior to payments being completed. The solution not only protects businesses from fraud, it also reduces the costs of policing fraud significantly and even increases revenues by allowing merchants to process transactions that would be refused by traditional providers. Last year one US payment gateway estimated that they turned away $25.5 billion of genuine orders on their platform, purely because of fear of fraud. Trustev's solution offers real-time online identity verification focusing on validating the individual making the transaction, not just the payment method they're using.
Let the celebrations begin! #irelandsxsw pic.twitter.com/LTRoPVlIEf

— DC (@donal_cahalane) March 10, 2014
Related articles