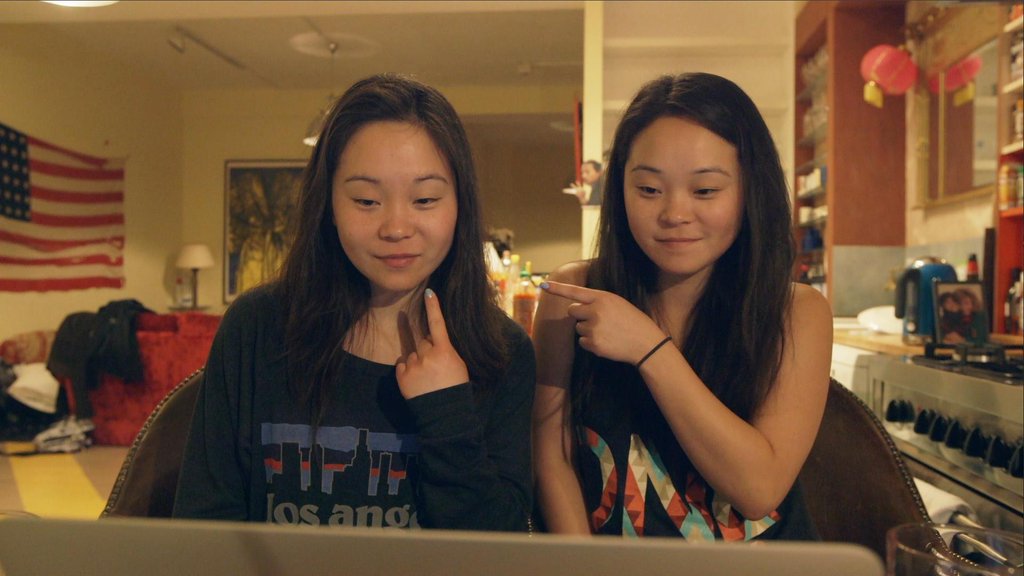 Twinsters is a story of the Internet Age. Identical twins separated at birth, adopted and brought up on different continents, Samantha Futerman and Anaïs Bordier would probably never have met if a friend of Anaïs hadn't seen Samantha in a viral video on YouTube.
From there it was a click to Samantha's own YouTube account and a little light Google stalking turned up her IMDB bio (she's an actress and filmmaker). That's where Anaïs saw that Sam had the same date of birth as her, and place of birth: Busan, South Korea.
A Facebook message went straight to Sam's "other messages" spam folder, since they weren't friends, but a friend of Anaïs reached out to Sam on Twitter. When Sam went on Facebook she found a friend request from a girl who looked exactly like her.
Facebook messaging led to a three-hour Skype call and launched an avalanche of instant messaging. The girls clicked immediately: as a filmmaker, Sam recorded everything from the start, including that first, exciting Skype call. Just a month after their first contact they launched a Kickstarter project to make a documentary about their experience, and cover the cost of bringing a film crew to their first meeting in London.
That was in 2013, and the film got its premiere at SXSW this year. This week it arrived on Netflix.
[youtube]https://youtu.be/1txduZwL2Yg[/youtube]
Twinsters is a story of two women dealt an identical genetic hand, who go on to play different games with those cards, addressing questions of nature versus nurture. Sam grew up in the US with two brothers; Anaïs was raised in France, an only child. Both share a sense of humour and have many personality traits in common; one is more outgoing and extroverted. Both are creative: Sam in dramatic arts; Anaïs is a fashion designer.
Love and family are strong themes of the film. The sisters feel an instant bond, which they describe as 'unconditional', but the film makes clear that love is more than blood. Both girls have loving, supportive, adoptive families and networks of friends who share in the joy of the twins' discovery. Travelling to South Korea, the girls meet the foster mothers who cared for each of them in their first months. The experience is a revelation for Anaïs, who had struggled with the idea of having been given up for adoption.
The girls are overjoyed to have discovered each other. Sam is asked if they would rather they had been raised together, but concludes that she "wouldn't change a thing", reasoning that each girl is the sum of their life's experiences, that have made them who they are today.
The story is very well told: beautifully paced and constantly engaging. The film is co-directed by Samantha, with Ryan Miyamoto who came on board as a cinematographer at an early stage. Experienced editor Jeff Consiglio turned their footage into a quality film; his work earned a special jury prize for editing at SXSW. Instant message sequences, in particular, are especially well handled, overlaid on film footage using animation and sound effects.
This is a hugely enjoyable film, watching two strangers discover that they are family and go on to build a friendship. Check it out on Netflix or iTunes.
Technology.ie is brought to you by Blacknight, Ireland's biggest and best provider of web hosting and domain names.