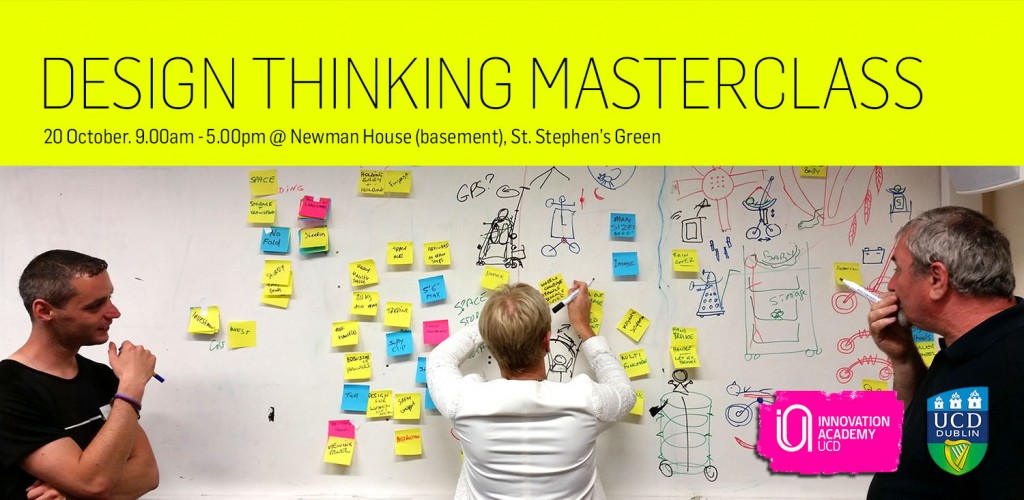 UCD's Innovation Academy is holding a one-day Design Thinking Masterclass on 2o October in St Stephen's Green, Dublin. The 'Early Bird' price comes to an end today, and prices will rise tonight according to the Academy's Executive Director, Johnny Ryan, who says "spots are booking up quickly".
The Innovation Academy is a unit of UCD, and was established through the Innovation Alliance between UCD and Trinity. Its mission is:
"to provide a transformational educational experience for the betterment of society and the economy. We shape creative minds capable of launching new ventures."
It has expanded from its initial focus on working with PhDs and now offers a range of courses, working undergraduates, postgraduates, and educators, and with organisations and partners beyond academia.
The one-day one-day Design Thinking Masterclass is designed "to help organisations to de-risk innovative projects and harness the creativity of staff", and will include:
Design Thinking: what it is and how to apply it to practical problems
How to uncover real customer needs
How to marshall inputs from across your organisation to solve a problem area
How to run quick experiments at low cost to transform organisational culture
You don't need to be a designer or an engineer to participate, says Ryan. The course is "for everyone" and is aimed at building a culture of creativity and innovation within organisations.
Related articles