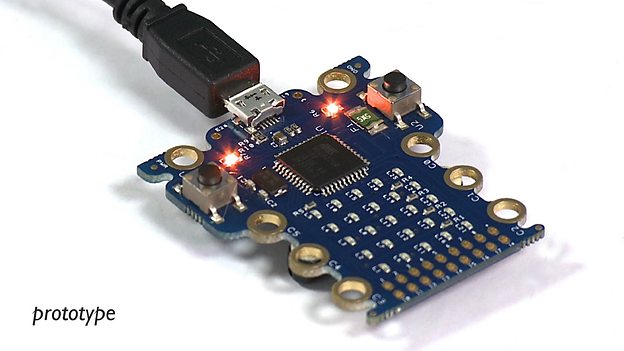 The BBC has announced a major project, developed in pioneering partnership with over 25 organisations, which aims to give a million "personal coding devices" free to every child in year 7 across the UK (corresponding to first year of secondary school in Ireland).
Still in development, the device has been nicknamed the 'Micro Bit', though the name may change before it is launched. It's a stripped down computer, similar to the Raspberry Pi, although it's developers say it's intended to be a springboard to such devices rather than a competitor. The project aims "to give children an exciting and engaging introduction to coding, help them realise their early potential and, ultimately, put a new generation back in control of technology". It will be distributed across the UK from autumn 2015.
Micro Bit follows in the footsteps of an illustrious predecessor, the seminal BBC Microcomputer, which was distributed to UK schools in the 1980s, in addition to finding popularity in Ireland and other countries as well. Computing and digital technology has become ubiquitous since then, but for many, the emphasis has shifted from creation to consumption. The Micro Bit, and the wider BBC Make it Digital initiative, aims to help redress the balance.
The Micro Bit will be a small, wearable device with an LED display that children can programme in a number of ways. It will be a standalone, entry-level coding device that allows children to pick it up, plug it into a computer and start creating with it immediately.
It is designed to be a starting point to get younger children interesting in coding so they can move onto other, more complex devices in future. And the Micro Bit can even connect and communicate with these other devices, including Arduino, Galileo, Kano and Raspberry Pi, as well as other Micro Bits. This helps a child's natural learning progression and gives them even more ways of expressing their creativity.
Inspirational broadcast content on CBBC and elsewhere, live BBC Learning lessons and other educational online content from the BBC and partners will help support teachers, parents and children to get the most out of the device.
Related articles