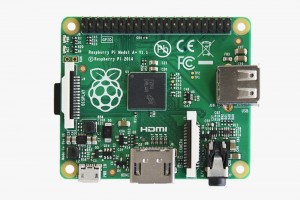 Raspberry Pi is known as the'credit-card-sized' computer. Not anymore: the newest Model A+ is even smaller, measuring 55mm x 65mm!
They've redesigned it to get rid of a lot of "wasted space". Like its predecessor, the Model A, the A+ has just 256MB of onboard RAM (as opposed to 512MB for the Model B and B+), a single USB connection and no ethernet. Like all Pis, it's built around the Broadcom BCM2835 System-on-a-Chip, clocked at 700MHz.
In addition to size and power better power efficiency, improvements include:
More GPIO. The GPIO header has grown to 40 pins. The Model A+ is compatible with the HAT standard for add-on boards.
Micro SD. The old friction-fit SD card socket has been replaced with a much nicer push-push micro SD version.
Better audio. The audio circuit incorporates a dedicated low-noise power supply.
The small form factor and lower power-consumption is going to be appealing for 'Internet-of-Things' embedded projects, and the price even more so. They're advertising it at US$20, though it appears to be UK£20 at RS. Farnell reseller CPC is offering it for €21.92 including Irish VAT, but they add a €6+VAT "handling charge" at the checkout. That appears to cover delivery also.
[youtube]http://youtu.be/Y7ZrJvnpNc4[/youtube]
Technology.ie is brought to you by Blacknight, now offering names in hundreds of new generic Top Level Domains and a range of quality hosting options.
Related articles