It's revolutionised taxi travel for many of us – especially when travelling for business – and today Hailo has announced that it is now live in 20 new towns and cities!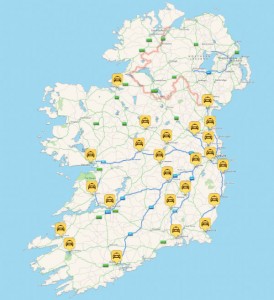 They've been steadily rolling it out since the Dublin service launched in 2012, adding Cork, Galway and Limerick in 2013. The 20 new locations just announced are: Waterford, Sligo, Kilkenny, Carlow, Athlone, Naas, Greystones, Navan, Drogheda, Mullingar, Bray, Dundalk, Ennis, Gorey, Killarney, Newbridge, Portlaoise, Tralee, Tullamore and Wexford.
Hailo has confirmed that it is continuing to recruit drivers in towns around Ireland, so if you're local spot is not covered, it soon may be.
To celebrate, they are offering all first time users of the app €10 off their first journey booked by card. If you see your town on the map above, just enter your town name, followed by the number 14, into the credits section of the app.
So, for example, if you are stuck in Sligo, enter SLIGO14 for a lift home!
They are also offering the chance to win daily prizes of €50 credit every day this week for you and a friend, if you tweet about them.  Further details are on the Hailo Ireland blog.
Related articles